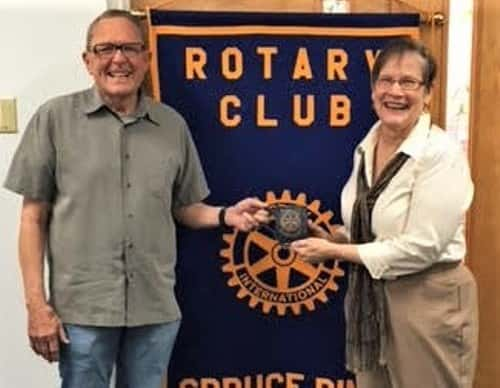 It was at the NC State Fair where Laura Walters discovered her love of Fiber. As Walters spoke before the Rotary Club of Spruce Pine on Feb 22, she described how enthralled she was watching two ladies at the fair who were spinning wool.  "It was the love of the craft that grabbed me," she said. This led to a passion for spinning, knitting and other fiber arts.
In 1978, after moving back to North Carolina, Walters became involved with Asheville's Fiber Fair, specifically running the Fleece Show portion of the event for several years.
In 2012, Laura and her husband purchased a farm in Bandana allowing her to raise Gulf Coast Native Sheep, a breed which had almost died out before efforts were made to protect them. Walters described to the group the process of shearing the sheep to spinning wool, showing some examples to the group.
Pictured is Rotarian Mike Tollison presenting a locally handmade Rotary mug to
Laura Walters
Photo by Rotarian Tina White