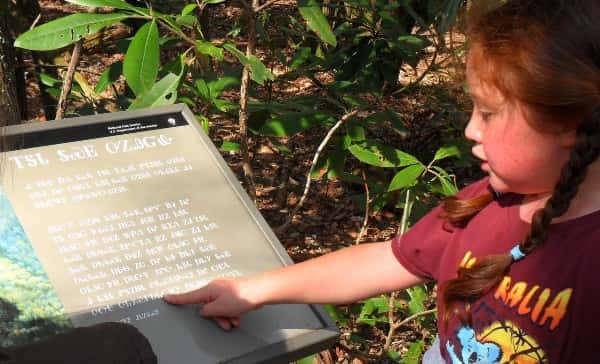 The Rural Heritage Museum at Mars Hill University opens a new exhibition, "Understanding our Past, Shaping our Future," on Tuesday, March 20, 2018. This interactive exhibition, based on Cherokee language and culture, employs sound recordings as the basis for presenting a coherent Cherokee story in words, text, and artifacts. The exhibit runs through May 27. Museum hours are Tuesday through Sunday, 11:00 a.m. until 5:00 p.m. Admission is free.
Understanding Our Past, Shaping Our Future was developed with Cherokee community input with the assumption that language shapes thinking. In creating the exhibit storyline, the project team used the Cherokee language to reflect inherent Cherokee values.
This exhibition is funded by the Institute of Museum and Library Services, an independent federal agency,through a grant to the Eastern Band of the Cherokee Indians.
About the Rural Heritage Museum:
The mission of the Rural Heritage Museum is to facilitate the collection, preservation, exhibition, and interpretation of objects relevant to the history and culture of the Southern Appalachian region. Through its program of changing exhibitions, the Museum assists students, faculty members, and the general public in understanding their rural heritage. The museum is open daily (except Mondays) from 11:00 a.m. until 5:00 p.m., and by appointment. It is located in Montague Hall on the Mars Hill University campus. Admission is free. For more information or to reserve a group tour, please call (828) 689-1400 or visit the museum's website atwww.mhu.edu/museum.
About Mars Hill University:
Mars Hill University is a premier private, liberal arts institution offering over 30 baccalaureate degrees, as well as master's degrees in criminal justice, elementary education, and management. Founded in 1856 by Baptist families of the region, the campus is located just 20 minutes north of Asheville in the mountains of western North Carolina. The university's Asheville Center for Adult and Graduate Studies is located on Airport Road in Arden.
www.mhu.edu
Photo   A National Park Service interpretive sign featuring the Cherokee language. Photo provided by New Kituwah Academy.