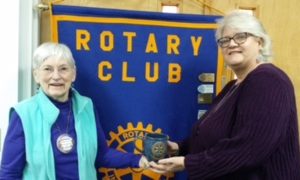 Lori Gilcrist is the director of Rural Education Partners of Mitchell County.  She has been a non-profit, education and human services leader in Mitchell County for well over a decade. At the March 8 meeting of the Spruce Pine Rotary she shared her passion for collaborating with partners throughout the community to empower Mitchell County school children to be successful in their own backyard.
"A rural community's most important resource is its children," she said.  "For a rural community to thrive, its children must thrive."  She explained how Rural Education Partners builds relationships throughout our community and helps partners organize our rural resources and strengths to design and sustain model programs that can be replicated.
Programs are designed to develop the strengths of the Mitchell County students they serve and build relationships between the community, the children, their families and REP partners.  After-school clubs and enrichment programs like Art and Chess Clubs, in-school mentoring programs, and book and reading clubs like Blue Ridge Readers and Roan Readers bring together a diverse group of partners and volunteers, including local business and industries who fund the work.  Transportation, food, supplies and high quality supervision and instruction are always provided at no cost.
"These aren't just 'our' programs," she said, "Rural EducationPartners is the backbone in a way.  We develop what the kids want and need with interested partners, then we staff programs and coordinate volunteers and other agencies to make sure those programs are high quality, sustainable, and accessible to all our families."
"And training is important," she said.  REP brings the latest research and resources to partners so they know what works, what doesn't and how to implement high quality programs.  "It's all about breaking down those traditional silos of service and funding that get in the way in a rural place with different or fewer resources than our urban neighbors.
"Do you ever wonder why you didn't know about a lot of what we do? It's easier to get people to the table to work with you on behalf of kids if you give credit instead of take it.  We need everyone at the table."