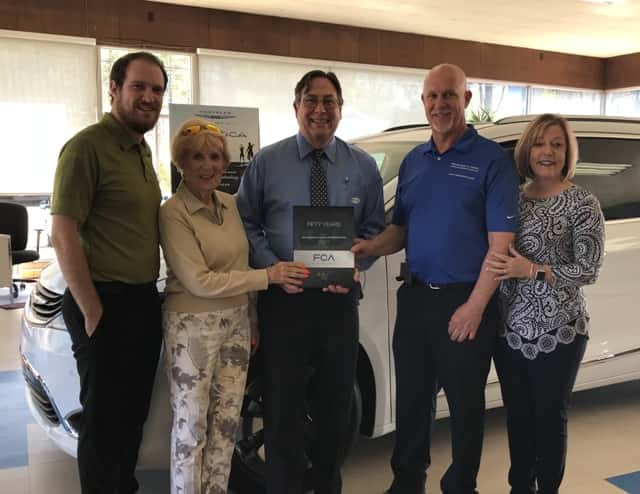 Pictured left to right: Thomas Buchanan III, Maxi Buchanan, David Hooten-FCA Area Manager Service and Parts, Tommy Buchanan and Susan Buchanan.
Local Chrysler, Dodge, Jeep, RAM dealer, Buchanan & Young is celebrating 50 years of service to the our area. Buchanan & Young began in business in 1968 in Bakersville, establishing a Chrysler dealership there. In 1985 they expanded and moved the business to Burnsville. They now offer a wide selection of both new and used vehicles including complete lines of  Chryslers, Dodges, Jeeps and RAM trucks. Throughout the past 50 years Buchanan & Young has been dedicated to serving their customers through competitive prices on vehicles and a top notch service department.
The Buchanan family has been a part of the dealership from the beginning with Warren as one of the founders. Warren's son Tommy continues as General Manager of the dealership and his son, Thomas has also joined the business as Finance Manager. As a local family owned and operated business Buchanan & Young is dedicated to this community and its people. Warren's wife, Maxie, son Tommy and his wife Susan and Thomas Buchanan III thank all their customers in this area and throughout Western North Carolina for your loyalty and support over the past 50 years. They promise to continue to give you the best in sales and service in the future, taking pride in serving their customers to the fullest.
Buchanan & Young is located on East Main Street in Burnsville. Call 828-682-2195.