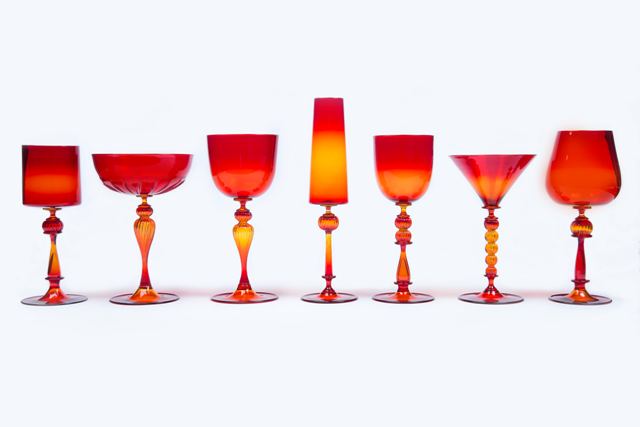 From May 19 through June 16, Toe River Arts will host an exhibit, "Glass on Fire" that will celebrate the installation of the first of six glass Gateway Towers and the seven glass artists—Courtney Dodd, Loretta Forde, Nick Fruin, Rob Levin, Kenny Pieper, David Wilson, and Hayden Wilson—who helped to make it happen. In the winter of 2015, these glass artists got together at Penland and began blowing hundreds of small glass hollows—red, gold, blue, purple, serrated, smooth, dabbled, oblong, round, serpentine. And when they were done, the "orbs" were boxed up and stored behind the Toe River Arts Gallery in Burnsville. In June, they will be taken out to fill a 22' tower that will stand at the east entrance to town. This first of six "telescopes" will serve as a welcome to visitors, a recognition of the arts in our counties, and as a light into the future of our region.
The exhibit will feature the work of these artists and offer insight in the Gateway project that began several years ago with a SmART Initiative grant from the North Carolina Arts Council, a division of the Natural and Cultural Resources Department. Toe River Arts, in collaboration with the Town of Burnsville, Yancey County, NCDOT, Yancey County Economic Development Commission (EDC), and many community partners, businesses, and residents have worked together with Seattle-based public artist, Jack Mackie, to create an arts-based environment that includes landscape design, public art, street scapes and lighting. The Gateway Tower is just the beginning.
Come share the excitement on Friday, May 18 from 5 to pm for an artist reception at the Burnsville Gallery (102 West Main Street). Normal gallery hours are 10:30 am to 5:00 pm, Tuesday through Saturday. For more information about the exhibit or other Toe River Arts programs and events, please visit the website or call 828-682-7215.