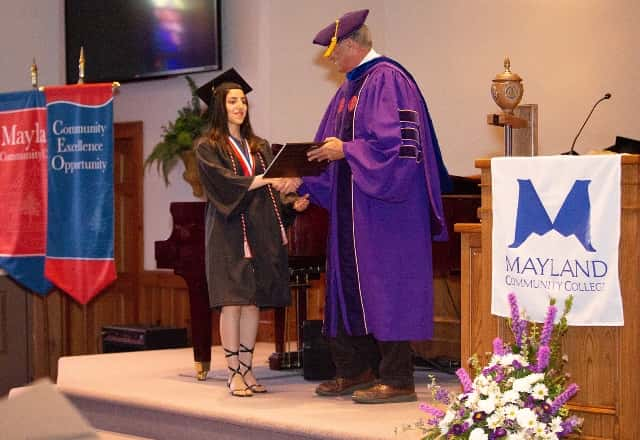 What would make you leave your homeland to live in another country? For Dima (Dee-ma) Jabakji, a student at Mayland Community College, it was the civil war in Syria. Living in the city of Aleppo, it was not unusual to hear bombs exploding and guns firing outside her classroom, or to find bullet casings strewn around the school courtyard.  It was common to be without water and electricity for weeks at a time. Still, children were expected to attend school every day. Jabakji's grandmother had been a school teacher and principal, therefore education was a priority in her family.
Jabakji was a shy child and not very interested in school in her earlier years. To her mother's dismay, she would try to run away as soon as the school bus arrived.  According to Jabakji, career opportunities for women in Syria are mostly limited to nursing and teaching, and women are told they only need to be concerned with finding a husband.
When Jabakji was fifteen, her family moved to Dubai, in the United Arab Emirates (UAE). It was difficult leaving friends and family behind in Aleppo, not knowing if she would ever see them again. The UAE was a safe place, but life was not stable for foreigners who could lose their jobs at any time and be forced out of the country, many having to flee to Germany if they could not return to their own country. Jabakji began to take school seriously and worked hard in high school holding onto a hope that she could come to the U.S. to attend college.At eighteen, Jabakji came to the United States to live with her aunt and uncle in Spruce Pine.  "I didn't know anything about college in America," Jabakji says, "but when I visited Mayland, I knew it was the place to start."
She enrolled in the Associate in Science Program because she was interested in transferring to a university to study medicine.  Jabakji was pleased when her instructors recognized her academic achievements and especially when they complimented her on her English. The local mountain accent and certain expressions were difficult for her to understand, but she soon became accustomed to them. The biggest difference between schools in Syria, the UAE, and here, Jabakji says it is the instructors."They are very friendly here and they really care that you succeed," said Jabakji. "They do everything they can to help you." Jabakji joined the SOAR Program at MCC because it offered academic support services and financial assistance.  She received scholarships that helped offset the high costs of out-of-state tuition. "If you are serious about college, you should join SOAR!" Jabakji said. "They will help you with everything. If you are a transfer student, you need the help of the SOAR transfer counselor because there's so much you have to know about transferring."
Jabakji was also involved in campus activities and joined the National Society for Leadership and Success. With a strong grade point average, she is also MCC's 2018 Academic Excellence Award recipient. For her future, Jabakji hopes to become a U.S. citizen and see more of the country. For now, she is happy to be reunited with her family who moved to the area in 2017.  A sister is enrolled in Mayland's Early College High School Program and the other is attending Harris Middle School. "No matter what obstacles are in the way," Jabakji said, "don't let them stop you from getting your education. You have nothing to lose, and everything to gain."
Jabakji will complete the Associate in Science Program in May, then transfer to East Tennessee State University to major in Pre-Medicine.