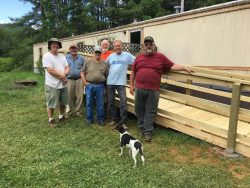 Pictured: Left to right  Mark WEvans, Charlie Foust. Don Williams (the veteran), David Bush, Moi, Pooch, Jerry Williams (DAV)
During this past year Mitchell-Yancey Habitat has developed a new initiative – Neighborhood Revitalization. Neighborhood Revitalization is a Habitat for Humanity International program which uses  residents and community partners working together to improve local quality of life with better accessibility and safety.
The Mitchell-Yancey Habitat for Humanity Board spent much of the last year developing this initiative.  Jonathan Ward, Habitat Board member explained,  "We wanted to expand our efforts and  we found that the pressing need  was assisting the aging and disabled population stay in their homes."
The Neighborhood Revitalization Home Repair program will assist people in need who wish to stay in their homes.  We believe that everyone should be able to grow old safely and comfortably in their own community. As we kick off this program, Habitat will address small but necessary projects such as building ramps, repairing steps and porches, replacing gutters or windows, painting, improving walkways, and landscaping.
On Memorial Day Weekend, Mitchell-Yancey Habitat for Humanity in collaboration with Disabled American Veterans, built an access ramp for a 73-year-old disabled veteran, Don Morrison. Disabled American Veterans provided materials and workers to help Habitat volunteers. In just two days, five volunteers built a new ramp for Mr. Morrison.
Don said, "the ramp increases my ability to get in and out of my house safely and with ease". He expressed his gratitude for the volunteers who built the ramp. Jim Erlandson, Habitat Board member, who worked on the ramp said, "There was incredible camaraderie between Habitat and DAV volunteers building this much-needed ramp. A neighbor of Don's even baked a cake for us, making this truly a neighborhood project".
The Mitchell-Yancey Habitat, incorporated in 1992, is an affiliate of Habitat for Humanity International, a nonprofit, ecumenical Christian housing ministry that builds and rehabilitates houses for families in need. Over the last 16 years Mitchell-Yancey Habitat has built 20 houses.  The Board decided to increase home production to two houses per year (one in each county, each year) in addition to the Neighborhood Revitalization Project.  By increasing home building and addressing community needs through the Home Repair/Neighborhood Revitalization project, "We are reaching a new level of support for our communities" said Jonathan Ward.
Mitchell-Yancey Habitat for Humanity is always seeking new community partners and donors.  If you or someone you know is interested in joining the Board, working on house repairs, developing a partnership, donating money or needing help with home repairs, please contact Misty Evans, Operations Manager (828) 766-9000 or stop by the ReStore, 563 Oak Ave., Spruce Pine.
Article written by Alyse Sferlazza.  Alyse lives in Green Mountain with her Fiancé and two rescued dogs. Avid reader, quilter, gardener, maker and shaker. She moved to Yancey County from Harrisburg, Pennsylvania in 2015. Passionate about nature, the move to the mountains was a natural fit. Spends her free time gardening and quilting. In 2017 received a North Carolina Real Estate License. She studied philosophy and biochemistry at De Paul University in Chicago, IL  and has participated in many diverse social, and environmental initiatives across the country. Her passion is serving others and her community.