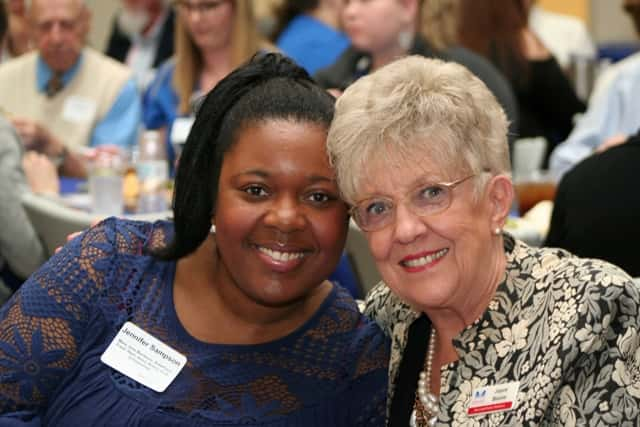 Mayland Community College Practical Nurse graduate Jennifer Sampson recently spoke during Mayland Community College Foundation's DREAM Day celebration, where scholarship recipients were given the opportunity to meet their donors and share their stories of success and encouragement. Sampson is also a High School Equivalency graduate. Sampson shares her educational journey at Mayland, achieving life goals, and expressing gratitude for those who helped her reach her dreams along the way.
"Once upon a time, when I was a little girl, I dreamed of being a nurse. My mother worked at the city hospital and would sometimes take me to work with her. I would wander the halls staring at the nurses in amazement. As I matured, so did my compassion and desire to help others – specifically the elderly. My plan was to obtain a nursing degree immediately after high school, but a series of unfortunate circumstances prevented me from graduating on time. It wasn't until 9 years later that I faced my personal giants, returned to school, and earned my High School Equivalency. Afterwards, I worked up the courage to pursue my dream. After a decade of setbacks and successes, I was awarded with a Diploma in Practical Nursing from Mayland Community College on December 15, 2017.
To date, I am a Staff Nurse who cares for elderly patients at the Foley Center at Chestnut Ridge in Blowing Rock, NC which is part of the Appalachian Regional Healthcare System. I am also taking additional classes here at Mayland so that I can become a Registered Nurse. Moreover, I am working toward satisfying the requirements that are necessary to become a Nationally Credentialed Geriatric Nurse. Finally, if all goes as planned, my professional goals will culminate with me becoming a nurse educator.
There are absolutely no words to describe how walking in your dream feels. All I can say is that this feeling was made possible by the many donors in our community who are consistently making a difference in the lives of the less fortunate. Scholarships provided to help students like me pay for tuition, fees, supplies, and gas to commute to our classes and labs or clinical rotations. I would like to personally thank my donors: David and Yvonne Evans, Avery County Rotary Club, Mary Jane Burleson Memorial Fund, and Mitchell County Safeplace. Because of you, I have been given an equal and unfettered change to be an active participant in the economy and enjoy to subsequence peace and prosperity that comes to successful individuals.
Now, DREAM Day is every day for me. I now have a new sense of contentment and purpose. I walk with my head held up a little higher, not in price, but in the knowledge that I am maximizing my fullest potential within. My basic needs are being met and I am beginning to experience an increased sense of personal peace and prosperity. Thank you all for investing in me! This is my story: a tale of victory, restoration, progression, and fulfilled dreams.
I would like to leave you with two thoughts. The first is that education is the key to a life without poverty. The second is that philanthropy still works and is vital to a healthy community and nation. With these two elements, many can break free from the cycle of financial insufficiency and become productive members of society. In the words of the religious philosopher St. Paul of Tarsus – "Be ye steadfast and unmovable, always abounding in good works, knowing that your labor is not in vain."
The Mary Jane Burleson scholarship is available to High School Equivalency graduates who pursue a curriculum degree at Mayland Community College.
There are three ways to earn your High School Equivalency and for more information about those opportunities or the FREE classes call (828)766-1208.
Photo:
Pictured are MCC Practical Nursing graduate and Mary Jane Burleson Scholarship recipient Jennifer Sampson with MCC Adult Education Recruiter Joyce Boone.