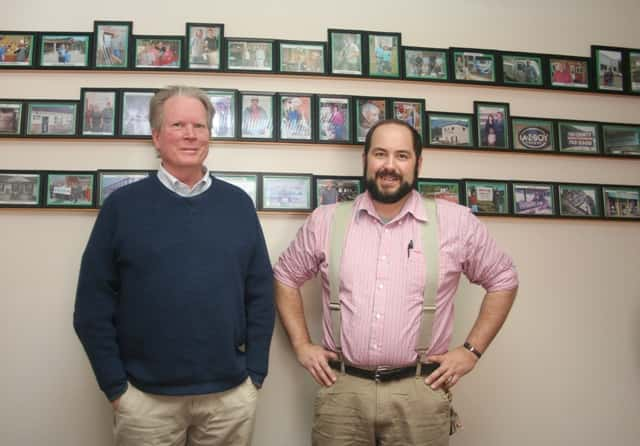 Bill Weeks, Director of MAY Coalition for the last 25 years, is passing the torch as he retires this spring. Eron Thiele will serve as the new director for the organization.
"We are very excited about Eron assuming the reins at MAY Coalition, said MAY Coalition Board President Nancy Morrison. "He brings skills and experience that make him a great fit for both the job and the three-county area MAY Coalition serves. We are lucky to have found such a qualified candidate. He has some big shoes to fill in taking over Bill Weeks' position. Bill has guided MAY Coalition expertly for years and has been the driving force behind funding for many businesses in our area. We will miss him very much, but we wish him happiness, success and fun in his retirement!
The office located in The Wylie Building in downtown Spruce Pine, is filled with photos highlighting the businesses MAY Coalition has helped through the years. To date, almost 10 million dollars in loans have supported 200 business ventures.
"The MAY Coalition is a great resource to push this area forward to create more of an economic system and jobs in this area," said Thiele. "We plan to work with the Small Business Center at Mayland Community College to help with business plans, local Economic Development Commissions, and Spruce Pine Main Street as resources for better loan options."
Weeks, who worked with Susan Larson, helped with the initial proposal to start the organization. MAY Coalition is a nonprofit corporation whose mission continues to help create high quality employment opportunities for unemployed and underemployed residents of Mitchell, Avery and Yancey counties.
"The most rewarding part has been seeing a lot of dreams come true for local businesses," said Weeks of his time as director. "David Whitson in Spruce Pine is a great example of one of the loans we gave." Whitson expanded his electrical business and is now owner of the Cross Street Building in Spruce Pine that provides space for local businesses, events, and organizations.
This community-based nonprofit began with a grant from the Z. Smith Reynolds Foundation and continued with additional supplemental funding from the Community Foundation of Western North Carolina, the North Carolina Department of Commerce, and from the United States Department of the Treasury CDFI Fund. USDA Rural Development also provided additional monies through long-term loans.
MAY Coalition offers two loan programs. One for any qualifying business that agrees to create new employment opportunities for residents of the three counties. The second loan program is for low to moderate income business owners. The difference for this type of loan is that the businesses applying do not have to create new employment opportunities for others but use the funds as an investment to enhance the owner's work. These loans can range up to $250,000, with the second loan type amount limited to up to $25,000.
"The small loans are as beneficial as our larger loans," said Weeks. "One loan that I really liked was for a piano teacher. The loan she received helped her move from a church basement to building a studio to teach lessons. It had always been her dream to have her own studio space."
Thiele encourages those with small business interests or owners to contact him as a resource. He can be reached at 828.765.8880, via MAYloan@bellsouth.net, or drop by the office located in the Wylie Building.
"MAY Coalition has made a lot of loans and I would love to see that continue to increase," said Thiele. "We want businesses in the area to grow and thrive. We have a vested interest in businesses being successful."
MAY Coalition extends a personalized approach to loans that is often not offered by banks. All applicants must complete a two-page pre-application form, provide tax returns for two years, as well as a personal financial statement and business plan.
MAY Coalition is governed by a Board of Directors made up of business people, local government representatives, and people hired as a result of their loans. A loan committee, appointed by the Board, reviews all applications, and a majority vote of the entire Board of Directors determines loan approval. Loan decisions are based on the number and quality of jobs created, the likelihood of repayment, the character and credit history of the borrower, the soundness of the business idea, and the quality of collateral offered.
"I have loved working here and I think Eron will be great to carry on the good work of this organization," said Weeks.
Learn more about MAY Coalition at http://www.maycoalition.org/.
Pictured is outgoing MAY Coalition director Bill Weeks at left with newly appointed director Eron Thiele.