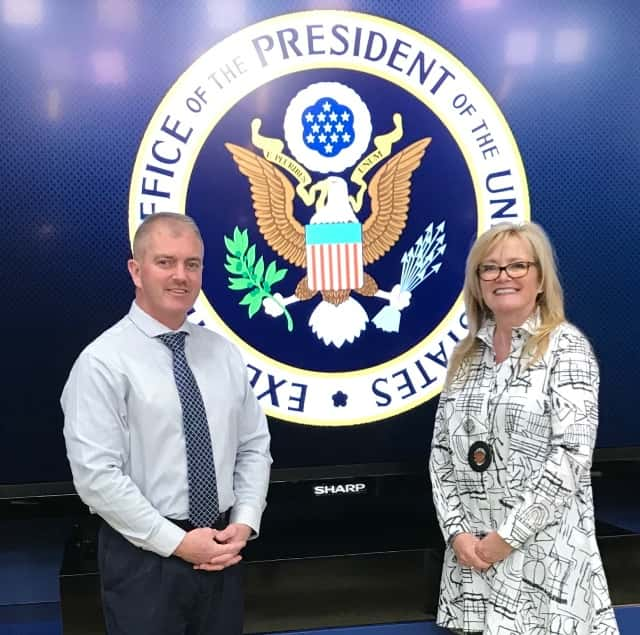 Yancey County Commissioners were recently invited to join county officials from across North Carolina for a conference in Washington, D.C. hosted by the White House Office of Intergovernmental Affairs.  On March 14th, Commissioner Jill Austin and Commissioner Jeff Whitson attended this meeting at the White House with over 100 county commissioners for a unique opportunity to hear directly from senior federal government officials.
Commissioners heard from Vice President Mike Pence concerning the administration's efforts to engage with local officials on a number of federal issues that impact our communities.  In addition to the Vice President, commissioners heard from Department of Housing and Urban Development (HUD) Secretary Ben Carson, Counselor to the President Kellyanne Conway and a panel of federal department and agency representatives from the U.S. Department of Agriculture, Health and Human Services, Commerce, Energy and the EPA.  While in Washington, county officials also met with Congressman Mark Meadows and representatives of the National Association of Counties to discuss a number of federal issues of concern to Yancey County.
"As a county commissioner, it is very important that we learn and are informed about federal issues that impact us right here in Yancey County.  For instance, we have significant portions of our county in the national forest under the management of the U.S. Forest Service and those folks in Washington need to know how their decisions impact our citizens and this was a great opportunity to tell them face-to-face," stated Commissioner Jill Austin.
"It was my honor and privilege to represent Yancey County at a federal event.  It was very clear that this administration is concerned with the needs of local government and rural communities.  It was encouraging to hear from top federal positions speaking to the needs of local concerns regarding safety and security, agriculture and infrastructure, for example.  We brought a lot of benefit away from the meeting," stated Commissioner Jeff Whitson.