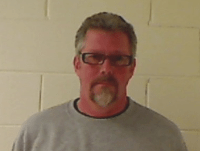 A Yancey County Jury convicted Dr. Ernest Holden of Driving While Impaired on August 9th, 2018.  Dr. Holden was driving in downtown Burnsville shortly before midnight on Saturday, February 25th, 2017.  A concerned citizen notified the Yancey County Sheriff's Department of Dr. Holden's erratic driving. Dr. Holden was stopped and arrested by the Burnsville Police Department for suspicion of Driving While Impaired.  The investigation was then taken over by Trooper Brandon Peterson of the North Carolina State Highway Patrol.  Dr. Holden submitted a sample of his breath which showed an alcohol concentration of 0.13.  Consequently, Dr. Holden was charged with Driving While Impaired.  A little over a month later, Dr. Holden resigned from his position as Superintendent of Madison County Schools.
Tragically, Trooper Brandon Peterson passed away on April 7, 2017 at the age of 31.  Dr. Holden's case was still pending at the time of Trooper Peterson's death, and the District Attorney's Office decided to proceed even without being able to admit Dr. Holden's alcohol concentration.  Dr. Holden plead not guilty and was convicted by District Court Judge Ted McEntire on July 17th, 2017.
Dr. Holden then appealed his conviction to Superior Court and requested a jury trial.  The second trial began August 7th, 2018.  Because of Trooper Peterson's death, the jury did not hear evidence that Mr. Holden's blood alcohol concentration was nearly twice the legal limit.  Nevertheless, because of the other compelling evidence of impairment, the jury returned as their unanimous verdict that the Dr. Holden was guilty of Driving While Impaired.  Superior Court William H. Coward sentenced Dr. Holden to a suspended sentence of 90 days in jail, and ordered that he pay a $500 fine and court costs.  Additionally, Dr. Holden is required to get a substance abuse assessment and complete 48 hours of community service.
"This is the last pending case that was charged by Trooper Brandon Peterson," District Attorney Seth Banks said in a statement.  "It is indicative of the quality of Trooper Peterson's investigations and his work ethic that we were able to prove this case beyond a reasonable doubt despite his untimely passing.  He was truly an exemplary law enforcement officer who continues to be missed by all of us who had the privilege of knowing him.  I would like to thank Assistant District Attorney Milton Fletcher, the Yancey County Sheriff's Office, the Burnsville Police Department, and the North Carolina Highway Patrol for their efforts to keep our streets and highways safe."