On December 13th Wells Fargo Foundation presented a $47,000 grant to High Country United Way. HCUW was awarded this grant by Wells Fargo Foundation to support programs in the High Country that meet a mutual goal of helping people lift themselves out of poverty and attain self-sufficiency. This will provide life changing opportunities for many residents of Alleghany, Ashe, Watauga, Avery, Mitchell, and Yancey counties.
Comments by Mr. Taylor Vickrey – Wells Fargo, Vice President Senior Business Relationship Manager. I am honored to once again be given the opportunity to present a check on behalf of Wells Fargo Bank to the High Country United Way.   In 2017 Wells Fargo employees volunteered 2 Million hours, representing an estimated $48 Million in volunteer time.  Our employees also pledged $85 Million to nonprofits, topping United Way's workplace giving campaign for the ninth consecutive year and we are projecting to top that number again in 2018 which brings me to today's check presentation. 
In 2017 we gave the High Country United Way a check for $25,500.00.  Those monies went towards local agencies in the High Country focused on helping families get back on their feet and stay on their feet.  It's because of our shared vision of being an effective resource in our communities and their continued success that we wanted to give more, so this year so I am presenting a check to High Country United Way for $47,000.00 and look forward to your partnership in the years to come.  We cannot thank you all enough for the time, work and compassion you provide for all of us 24/7/365 days a year.  Thank you!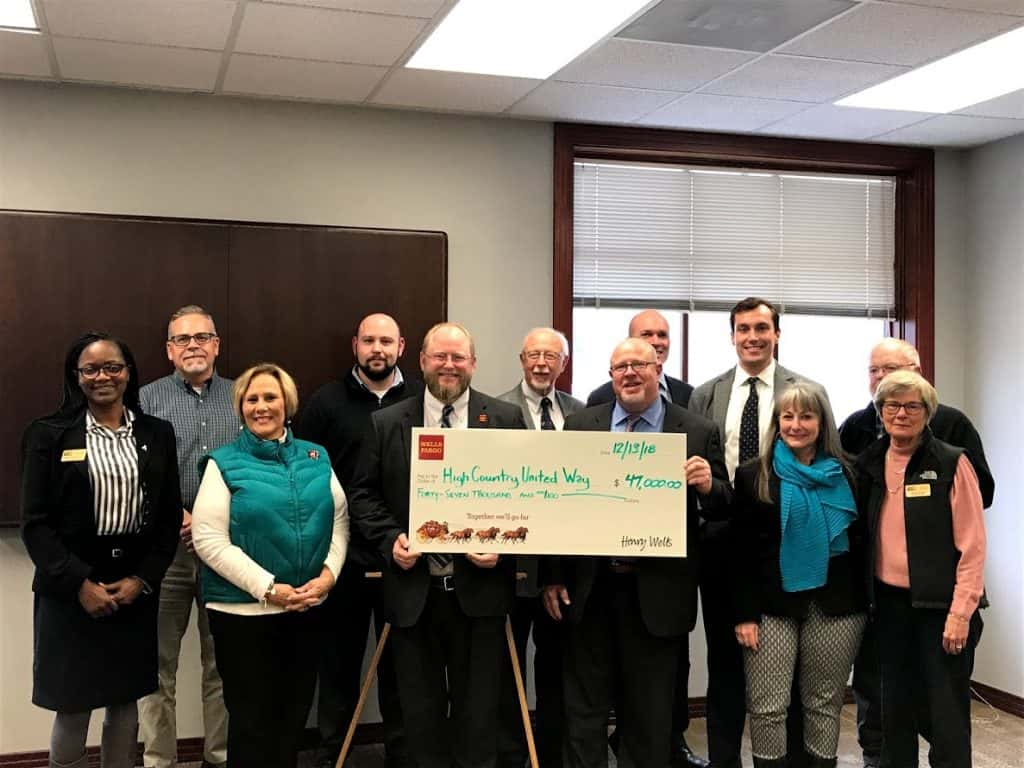 Terri Lockwood, Tom Hughes, Jennie Stultz, Joel Wise, Taylor Vickrey, Gary Childers, Johnny Carson, Scott Elliott, Keith Shockley, Kate Gavenus, Fred Pfohl, Nancy Reigel
Comments by Dr. Gary Childers – Executive Director. High Country United Way is grateful for the long-standing relationship it has with Wells Fargo Foundation. For more than 14 years Wells Fargo Foundation and Wells Fargo employees' contributions have supported the work of High Country United Way. Our best estimate shows that through the generosity of both these groups a total of at least $160,000 has been donated to High Country United Way over these 14 years to help meet immediate and emergency needs and improve lives in the High Country.
You may ask; Why such a large investment by Wells Fargo through HCUW to help meet needs in the High Country? Fortunately for the High Country both organizations have identified a similar priority.  High Country United Way's Income Stabilization Visioning Council established a goal of helping individuals move out of poverty and learn how to remain self-sufficient. One of Wells Fargo Foundation's main goals is supporting programs that "enable and sustain independence for individuals and families". Upon discovering these common goals 3 years ago High Country United Way representatives spoke with Wells Fargo Foundation's regional director, Peggy Reingold, about our interest in pursuing funds to support these effort in the High Country. She felt if we could demonstrate that our regional presence would allow their funds to have a greater impact in the High Country it might help secure additional resources from the Foundation. Board member emeritus Ms. Susan Poorman and Dr. Childers wrote an initial grant 3 years ago and were awarded $21,000 to support WAMY's Total Family Development and Hospitality House' Rise programs serving Avery, Watauga, and Mitchell counties. Two years ago, Wells Fargo Foundation was willing to increase their support for these programs to $25,500. This past year it was proposed in the grant request that Self Sufficiency programs be expanded to Ashe and Alleghany counties. Once again Wells Fargo Foundation supported the request and awarded $47,000 to expand the work in the High Country of helping people move out of poverty. The joint efforts of Wells Fargo Foundation and High Country United Way have resulted in support for programs that are truly having a regional impact through the agencies represented here today.
Each of the following agencies is receiving Wells Fargo Foundation and HCUW funds to support their program that is helping people lift themselves out of poverty. They are BROC's Alleghany Self Sufficiency; BROC's Ashe Self Sufficiency; WAMY's Total Family Development serving Watauga, Avery, Mitchell and Yancey; and Hospitality House's RISE serving Ashe, Watauga, Avery, Mitchell, Yancey, Alleghany, and Wilkes.
Comments by program Directors; Stacey Howell, Ashe County Self Sufficiency, Lynette Walker, Program Director of WAMY, and Tina Krause, Executive Director of Hospitality House all made comments as to the impact of these programs, their gratitude for the funds, and the necessity of funding from HCUW and Wells Fargo to keep them going.
High Country United Way is very grateful for the confidence Wells Fargo Foundation has shown in our work and especially grateful for this large investment in our region which will help many families achieve a better standard of living.