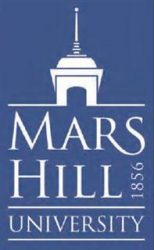 Students from four Western North Carolina counties get a 50 percent discount on tuition at Mars Hill University, thanks to a new scholarship program. The Local Lion Promise guarantees scholarships covering at least half the price of tuition for students from Buncombe, Madison, Mitchell, and Yancey counties.
President Tony Floyd says the Local Lion Promise reflects a renewed focus on Mars Hill being the university of choice for Western North Carolina students.
"Mars Hill University is determined and committed to changing the trajectory of lives in Western North Carolina," Floyd says. "Local students will absolutely be a priority for us going forward. We are doing everything within our power to make Mars Hill University affordable for those who want to be a part of a close knit community, who do not just want to be a number at a large university, and who want to be able to stay in the beautiful Blue Ridge."
The Local Lion Promise scholarship is available to traditional undergraduate students who live or attend high school in Buncombe, Madison, Mitchell, or Yancey counties. The scholarship will cover half of the tuition cost to attend Mars Hill University. For the 2019-2020 academic year the scholarship amount is $14,975 per year. Students who are interested in applying should contact the MHU admissions office at 866-642-4968 or admissions@mhu.edu.