School superintendents from four Western North Carolina counties visited Mars Hill University on Monday, November 4, 2019, to formalize a new scholarship program. The Local Lion Promise guarantees scholarships covering at least half the price of tuition for students from Buncombe, Madison, Mitchell, and Yancey counties. Buncombe County Superintendent Tony Baldwin, Madison County Superintendent Will Hoffman, Mitchell County Superintendent Chad Calhoun, and Yancey County Superintendent Kathy Amos joined university President Tony Floyd for a signing ceremony.
Floyd told the superintendents, "We are making this promise, this commitment, to the students, and we want you to know how much we appreciate local students."
The Local Lion Promise is part of what Floyd calls a "new path" for Mars Hill which focuses more intentionally on serving students from Western North Carolina.  He says, "We are doing everything within our power to make Mars Hill University affordable for those who want to be a part of a close knit community, who do not just want to be a number at a large university, and who want to be able to stay in the beautiful Blue Ridge."
That new path also includes resources such as the university's new Cothran Center for Career Readiness.
"That's a big part of what will make Mars Hill unique," says Floyd, "A place where students can come and immediately, in their first year, begin to really find their place in the world; their place of career discernment, of life discernment. It's about career, but it's also about life and finding their life's work."
The Local Lion Promise scholarship is available to traditional undergraduate students who live or attend high school in Buncombe, Madison, Mitchell, or Yancey counties. The scholarship will cover half of the tuition cost to attend Mars Hill University. For the 2019-2020 academic year the scholarship amount is $14,975 per year. Students who are interested in applying should contact the MHU admissions office at 866-642-4968 or admissions@mhu.edu.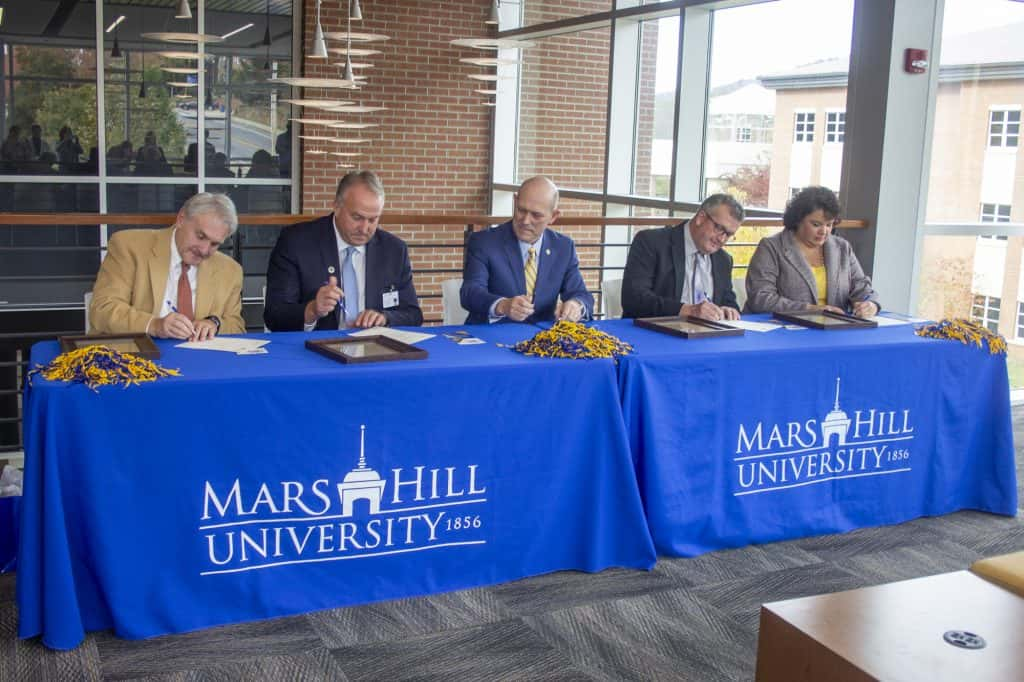 (l-r) School superintendents Tony Baldwin (Buncombe County) and Will Hoffman (Madison County); MHU President Tony Floyd; school superintendents Chad Calhoun (Mitchell County) and Kathy Amos (Yancey County).
About Mars Hill University:
Mars Hill University is a premier private, liberal arts institution offering over 30 baccalaureate degrees, as well as master's degrees in criminal justice, elementary education, and management. Founded in 1856 by Baptist families of the region, the campus is located just 20 minutes north of Asheville in the mountains of western North Carolina. The university's Asheville Center for Adult and Graduate Studies is located on Airport Road in Arden.
www.mhu.edu