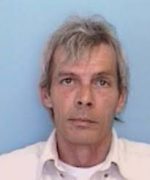 On October 30th, 2019 Allen James Buttke, Jr. was convicted of Second Degree Murder. In the early morning hours of October 25th, 2017, the Yancey County Sheriff's Office responded to a residence in the Bald Mountain Community of Yancey County.
Upon arrival at the scene deputies found Sharon Williams Nicklow dead in her residence from gunshot wounds. After interviewing Ms. Nicklow's mother at the scene, deputies determined that the defendant had shot the victim after a domestic dispute. Mr. Buttke was taken into custody at the scene and later charged with Second Degree Murder.
The Honorable Gary Gavenus sentenced Buttke to serve a minimum of 15 years and 10 months, and a maximum of 20 years in prison.
"Our thoughts and prayers will continue to be with Ms. Nicklow's devoted family," District Attorney Seth Banks said in a statement. "By bringing an end to this case, we hope that we have been able to bring a measure of closure to this family which has suffered so much as a result of Mr. Buttke's senseless act. I would also like to thank the Yancey County Sheriff's Office, the North Carolina State Bureau of Investigations, and Assistant District Attorney Milton Fletcher for their work in seeing that Allen Buttke was brought to justice."