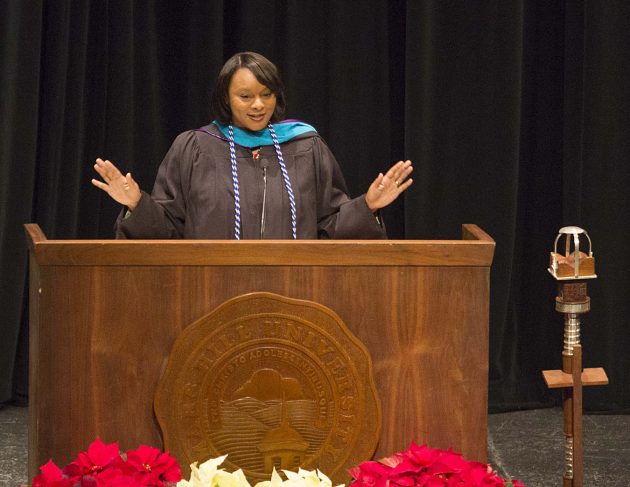 Terry Bellamy will be the keynote speaker at Mars Hill University's winter graduation ceremony on Friday, December 20, 2019. Bellamy is a former two-term mayor of Asheville and now is the director of community and economic development for Madison County. This will be her second graduation speech at Mars Hill. She also gave the commencement address at the university's winter 2014 graduation ceremony.
Student speakers will be Addison Harris of Asheville, representing the traditional student population, and Kelsey Rediske of Marshall, representing Adult and Graduate Studies, Mars Hill's program for adult undergraduate students and those pursuing master's degrees.
Mars Hill University holds two graduation ceremonies each year: one in May for graduates who complete their degrees in the spring semester, and one in December for graduates who complete degree requirements over the summer or fall terms. About 60 students are expected to be eligible for the December 20 ceremony, which will take place at 3 p.m. in Moore Auditorium.
Bellamy served two terms on Asheville City Council and was elected mayor in 2005, becoming the first African American mayor in Asheville history. Bellamy served as a member of the Asheville Area Chamber of Commerce Board of Directors, the Land-of-Sky Regional Council, the 21st Century Transportation Committee, and the Intergovernmental Affairs Committee. Since leaving office in 2013, she has worked with the Asheville Housing Authority and Buncombe County Work Ready Communities. She began her role with Madison County's economic development office in March 2019. Bellamy received her undergraduate degree from UNC Charlotte and her master's and doctorate from Western Carolina University.
About Mars Hill University:
Mars Hill University is a premier private, liberal arts institution offering over 30 baccalaureate degrees, as well as master's degrees in criminal justice, elementary education, and management. Founded in 1856 by Baptist families of the region, the campus is located just 20 minutes north of Asheville in the mountains of western North Carolina. The university's Asheville Center for Adult and Graduate Studies is located on Airport Road in Arden.
www.mhu.edu