SITUATION UPDATE: MAY 22
Contact: news@dhhs.nc.gov                                         (919) 825-2599
As of 10:51 a.m. today:
NC Cases
NC Deaths
NC Tests
Completed
NC Currently
Hospitalized
21,618
728
303,224
568
More data are available online at www.ncdhhs.gov/covid-19-case-count-nc.
Daily Updates:
Today, the North Carolina Department of Health and Human Services (NCDHHS) began distributing a one-time supplemental payment to families enrolled in the Work First Cash Assistance program with one or more children. These payments are intended to help vulnerable families during the economic disruption caused by the COVID-19 pandemic. Read more.
ICYMI:
NCDHHS reported the first case of Multisystem Inflammatory Syndrome in Children (MIS-C) associated with COVID-19 in North Carolina. Read more.
NCDHHS Secretary Mandy Cohen talks about the importance of the 3 Ws: Wear. Wait, Wash. Watch the video.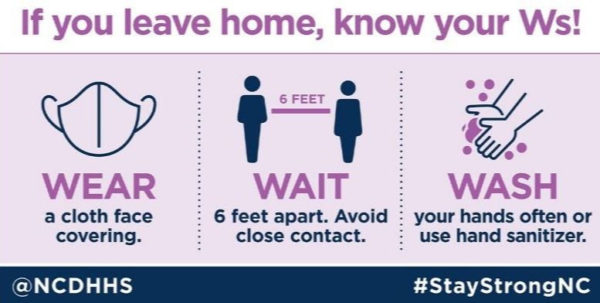 For more information and updates on COVID-19, visit ncdhhs.gov/coronavirus.