Carolina Farm Credit is proud to announce the recipients of the AgYouth Leadership Program scholarships.  This program was set up to honor students who excel in the classroom and community as leaders in their FFA chapters and 4-H clubs.
NC FFA advisors and 4-H leaders selected students to submit applications for the AgYouth Leadership Program.  The AgYouth Leadership Committee then reviewed and selected 17 award recipients who received a certificate for their outstanding achievements. The applications from these 17 recipients were judged a second time, and the top 6 students were chosen as scholarship recipients.
The Scholarship Recipients from Carolina Farm Credit were:
Kendall Kennedy, Matthews, NC
Leslie Hernandez, Yadkinville, NC
MacKenna Clifton, Salisbury, NC
Brodie Smith, Ramseur, NC
Caleb Buckner, Weaverville, NC
Davison Brown, Harmony, NC
The AgYouth Leadership Program is open to any junior or senior students in good standing with his/her high school and FFA or 4-H program.  The goals of the AgYouth Leadership Program are:
To raise the profile of outstanding junior and senior FFA and 4-H student leaders by recognizing their accomplishments.
To recognize these winners in various association publications, social media, and Farm Credit Associations of NC websites.
To create scholarship opportunities that will help graduating seniors.
In all, over 80 applications were received for the 2019-2020 program.
Carolina Farm Credit is a stockholder-owned cooperative providing financing to full and part-time farmers and agricultural-related businesses and also provides financing for the construction and purchase of homes in 54 counties through 29 branch offices.  Other financial services available are credit life insurance, appraisal services, leasing programs, and financial planning.
For over 100 years, Farm Credit has been supporting rural communities and agriculture with reliable, consistent credit and financial services.
Carolina Farm Credit serves over 11,000 members with loans outstanding totaling more than $1.7 billion.  The association's territory covers the western half of North Carolina, with branch offices located in Albemarle, Asheboro, Asheville, Browns Summit, Burnsville, Carthage, Conover, Ellerbe, Graham, Hendersonville, Jefferson, Lenoir, Lexington, Lincolnton, Monroe, Murphy, Pilot Mountain, Roxboro, Rural Hall, Salisbury, Shelby, Siler City, Sparta, Spindale, Statesville, Taylorsville, Wilkesboro, Yadkinville, and Yanceyville.
Directors for Carolina Farm Credit are David M. Coltrane, Chairman, Pleasant Garden; Vickie N. Smitherman, Vice-Chair, East Bend; John M. Barnard, Statesville; E. Bernard Beck, Seagrove; W. Rex Bell, Statesville; Mark A. Bray, Lawsonville; Leslie G. Sparks, DVM, Sparta; Joseph A. Lail, Shelby; Clark M. Newlin, Haw River; Thomas E. Porter, Jr., Concord;  Eric McPherson, Snow Camp; D. Kaleb Rathbone, Waynesville; Lewis E. Smith, Lincolnton; L. Kim Starnes, Salisbury; Dr. Alton Thompson, Summerfield.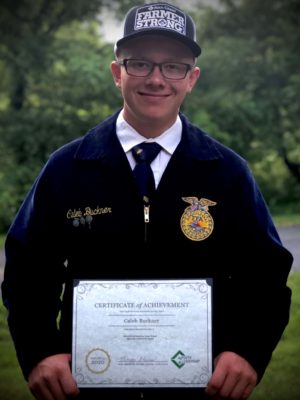 Caleb Buckner from Weaverville, NC – AgYouth Leadership Program award and scholarship recipient