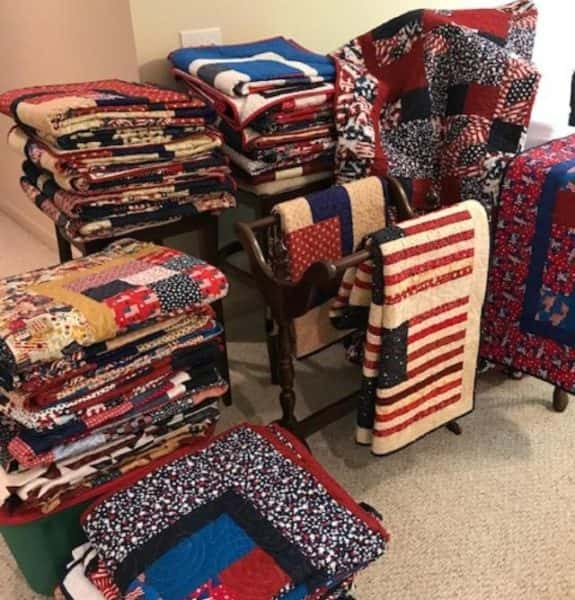 In previous years the veterans from World War II, Korean War, Vietnam and recent veterans from all branches of service have been honored by the Mountain Piecemakers Quilt Guild in a ceremony on the Burnsville Town Square.  Due to COVID-19, this year has to be handled differently. The 50 veterans who will be receiving quilts will have the opportunity, using social distancing, on July 2 and July 3, from 10 am to noon at the Burnsville Town Square   to receive their quilt. Otherwise the quilts will be hand delivered or mailed to the veteran.
Mountain Piecemakers Quilt Guild has made all of these Hero Quilts as a special service project. For eight years the quilters have made these quilts to thank our veterans from Yancey, Mitchell and Madison counties for their service. Over 397 quilts have been presented to local veterans so far.  They have an on-going list and their policy is to give priority to the World War II and Korean veterans.
If you would like to make a nomination of a veteran who lives in Madison, Mitchell or Yancey counties, forms are available online at mountainpiecemakersquiltguild.org or pick up a form from one of the members of the guild. Information needed includes veteran's name, address, phone, branch and period of service. You can mail it back to the address on the form.