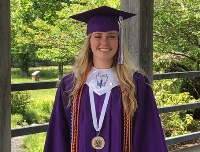 The Mitchell County Chamber of Commerce presented the first Shirley Hise Memorial Scholarship to 2020 Mitchell High School graduate Caroline Atkins.
The Chamber established the scholarship in the Fall of 2019 after the passing of its longtime director Shirley Hise. "Shirley was the Director of the Chamber for nearly 20 years," said Patti Jensen, current Director of the Chamber. Prior to coming to the Chamber, Shirley taught in the Mitchell County Schools for over 30 years and there wasn't a week that went by over the last decade that we didn't hear from a current business owner or local business person who said that Shirley was their hardest but best teacher they ever had. She cared for her students and worked tirelessly to make sure they had every opportunity to succeed. She cheered them on in the classroom and was a fierce Mitchell High fan in the stands. She continued to support them in any way that she could even after they graduated and after she retired. They knew that Shirley was in their corner if they needed her," said Jensen.
As Chamber Director Shirley was continually writing checks to support student groups, field trips, scholarships and especially students facing hardships. Shirley was a lifelong learner and held several degrees herself including a Masters degree and a Doctoral degree in Education. She loved history and politics and was an avid reader and researcher.
The Mitchell County Chamber established a scholarship committee to review applications received from local students. "The committee received several applications and were impressed with the number of amazing submissions," said Jensen. "Making a final decision was not an easy task. We are proud to have so many talented and accomplished students in our county," said Jensen.
Caroline Atkins is the daughter of Jeff and Angela Atkins of Spruce Pine and plans to attend East Tennessee State University in the Fall of 2020. Caroline's plans are to major in Exercise Science or Kinesiology and after receiving her undergraduate degree, plans to attend graduate school to pursue a Doctor of Physical Therapy degree.
The Shirley Hise Memorial Scholarship is supported by contributions from the Chamber as well as many local businesses and friends. The Scholarship will continue each year to honor a local student. Anyone interested in supporting this scholarship with a donation can contact the Chamber office at 765-9033.