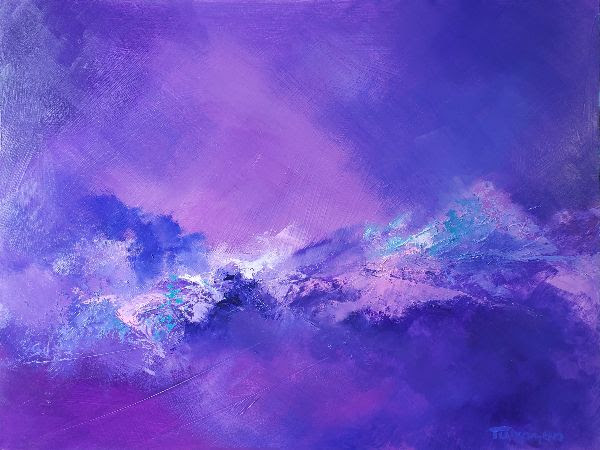 Toe River Arts announces the opening of Full Spectrum: Expressions in Color, Form and Texture, an exhibition of works by members of the Blue Ridge Fine Arts Guild (BRAG) and invited potters at their Spruce Pine gallery from September 26 through October 31.
The group will create a visually engaging experience using color, form and texture. The full spectrum of color will span the gallery so that visitors standing within it are encompassed by a colorful flow. The artists explore the themes of exuberance, radiance, introspection and tranquility as a reflection of the ever-flowing spectrum of life.
Works in a variety of media—oil, watercolor, acrylic, cold wax, pastel, photography, printmaking and clay—will be accompanied by artist statements relating the work to the theme of the exhibition, and giving compelling insight into the artists' inspiration, creative processes and techniques.
Participating artists are Carol Bailey, Anne Bessac, Anita Blackwell, Debra Carpenter, WJ Cunningham, Claudia Dunaway, Bridget Fox, Susan Garriques, Donna Griffin, Ken Hillberry, Charlotte Holland, Julie Kostes, Tom Kostes, Alan Larkins, Judith Larkins, Laurel Lovrek, Dennis McAvoy, Katherine McCarty, Rhea Ormond, Gaylene Petcu, Michael Rutkowsky, Ruth Fischer Rutkowsky, Anne Sabri, Loretta Schaffert, Ken Sedberry, Jenny Lou Sherburne, Rick Shimer, and Kat Turczyn.
BRAG was formed in 2008 in order to bring together area artists working in any two-dimensional medium. Members meet monthly and new members are always welcome. Interest in the fine arts is encouraged through member exhibitions, demonstrations by guest artists, outdoor painting events and community involvement. For more information, visit bragwnc.com.
Artist and BRAG member Kat Turczyn describes her inspiration, "The color violet, one of my favorite colors, inspired me to create Tempest in Amethyst using several shades and combinations of red and blue. This year has been my year for focused but playful experimentation, and this painting, almost entirely violet, shows part of my process. I see mountains whipped by weather, but with a slight shift in viewpoint, it's ocean waves in a storm."
The exhibition will be open to the public during normal operating hours. The Spruce Pine gallery, located at 269 Oak Avenue, is open Tuesday – Saturday, 10:30 AM to 5 PM. Cloth face coverings worn over the mouth and nose are required while visiting.
For more information, visit toeriverarts.org or contact Exhibition Manager Kathryn Andree at kathryn@toeriverarts.org or 828.765.0524.