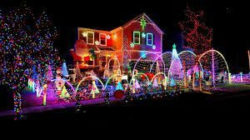 From Mitchell County Chamber of Commerce: We could all use an extra dose of Christmas spirit this year! A Mountain Christmas Trail of Lights 2020 is kicking off with plans to make our communities shine this year. Join us in celebrating the season, our community and the things that bring us all a little closer together in spirit.
What better holiday activity to do with your friends and family during a year like this than to travel throughout the communities to see all of the lights and displays?
And as a community…what better way to spread some light (literally) and cheer to our neighbors than to light up our homes and businesses for everyone to enjoy? We had over 100 lighted homes and businesses that participated last year and we are hoping to have even more this year!
So start gathering your light displays, untangling your strings of lights, adding a few more to the display (Walmart already has Christmas lights on the shelves! ) and let's make this a special year for our community! Join us!