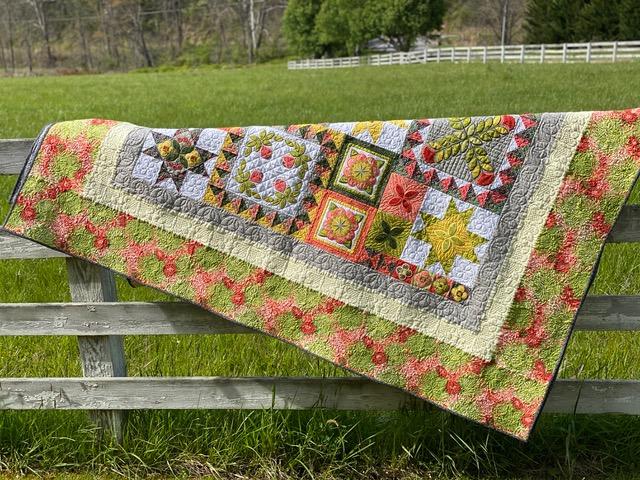 The opportunity quilt, made by members of Mountain Piecemakers Quilt Guild in Burnsville NC, is called "The Garden Club Redux" by Smith Street Designs. It is a combination of machine embroidered applique, machine embroidery, and traditionally pieced blocks. There are 17 embroidery designs within the quilt. The finished size is 67 X 85 inches. The fabrics used are a selection of Moda by Robin Pickens as well as other coordinated fabrics. The entire quilt is custom quilted by a member of the Guild. True colors are best represented in photo taken on fence due to lighting. Additional photos can be viewed on our website.
We will be selling tickets to win this beautiful quilt. Purchase tickets at https://mountainpiecemakersquiltguild.org/ticket-purchase/ or visit our website mountainpiecemakersquiltguild.org.
Proceeds go to purchase fabric and batting to make Hero Quilts for local veterans. Each year we award 50-60 quilts to veterans from Yancey, Mitchell and Madison counties. This year's ceremony will be on Veterans Day at the Town Square in Burnsville NC. The drawing will be held at end of Veterans Day celebration on Nov. 11, 2021 in Burnsville. The quilt will be shipped if needed to the winner.  Funds raised also support making quilts for Project Linus. In 2020 we donated approximately 40 quilts to Project Linus quilts for children in need in Western North Carolina. Mountain Piecemakers is a non-profit quilt guild and offers educational opportunities for those interested in quilting as well as community service projects.