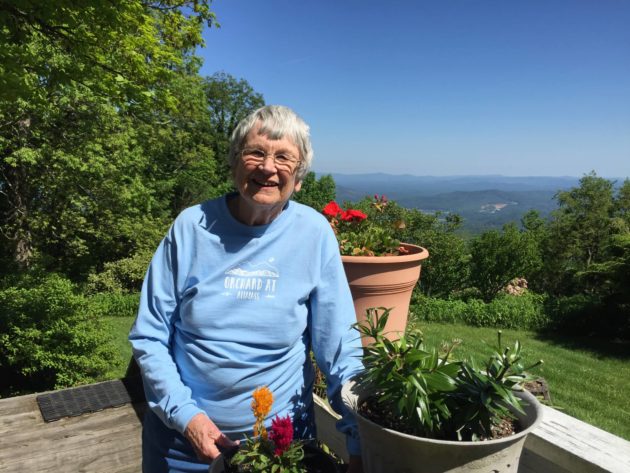 Judith vonRosen Carson, aged 81, of Little Switzerland, passed away on Wednesday, April 7, 2021, at home with her husband by her side.
Born on July 4, 1939 in Oakland County, MI, she was the daughter of the late John vonRosen and Suzanne Finlayson. In addition to her parents, she is preceded in death by her daughter, Karen Carson Kardos, her sister, Margaret vonRosen and her brother, Fritz vonRosen.
Judy is survived by her husband of 59 years, Bill Carson, of Muncie, IN, now of Little Switzerland, NC, her daughter; Jill de Witt Hamer and husband Ken of Haarlem, Netherlands, her grandchildren; Grace and Frances de Witt Hamer of Haarlem, Netherlands, Erzsebet and Katalin Kardos of Wilmington, NC and a brother; John VonRosen of Gross Pointe Woods, MI.
Judy was the editor of her high school yearbook and editor of the University of Purdue student newspaper, The Exponent. Soon after graduating from Purdue in 1961 with a degree in speech therapy, she married Bill Carson in Birmingham, MI.
Judy worked for many years as a speech therapist, she was also a talented graphic artist, photographer, accomplished author and loving wife, mother, sister and friend. Together with her husband Bill and sister-in-law Kit Trubey, Judy co-founded and hosted the non-profit Historic Orchard at Altapass. In 2005 she co-authored the book "Altapass" with Terry McKinney and in 1993 was publishing project director for the books "Stories 'Neath the Roan" and "More Stories 'Neath the Roan", both winners of the North Carolina Society of Historians, Inc. Award.
Judy applied her talents as an organizer and leader in many ways as the Orchard grew. For more than a decade she scheduled the 150 or so music events yearly with local music groups. She initiated the Orchard's Monarch butterfly preservation program, which continues today fighting to save a threatened species and her hilarious musical replays of Minnie Pearl's "Howdeeee!" still echo from the Orchard stage. Most of all her love and concern for EVERYONE she met impressed all who knew her.
Due to the current COVID-19 regulations, our staff is committed to taking care of our guests and families that we serve. Please understand we will be following the State's COVID guidelines. We also ask all guests and family members attending the visitation and service to please bring and wear a mask at all times and maintain social distancing.
Words of comfort may be e-mailed to the family by going to our website; www.webbfh.com, selecting Judith Carson's name and then you may sign her guestbook. Webb Funeral Home has been entrusted with the arrangements for Mrs. Carson and is honored to be serving the Carson family