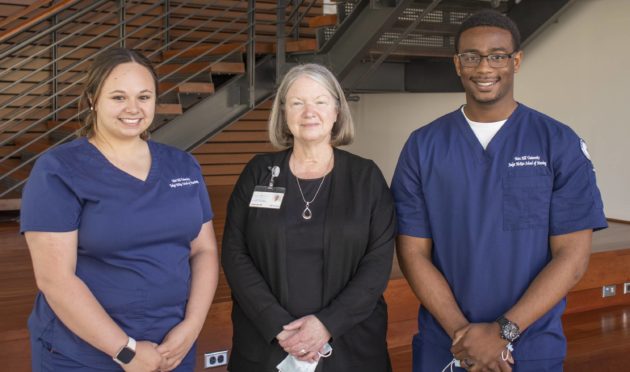 Two nursing students in Mars Hill University's Judge-McRae School of Nursing will spend the summer learning from and working with nurses at Veterans Administration facilities in the area. Michaela Baker of Arden, North Carolina, and William Brawley of Morganton, North Carolina, were selected for the VALOR Program at the Western North Carolina VA Health Care System. VALOR stands for VA Learning Opportunities Residency. It gives rising seniors in nursing schools the opportunity to work as residents in a clinical setting at a Veterans Administration medical facility.
More than 20 students from across the region applied for the four VALOR positions available this summer at the health care system. Interviews were held virtually this year due to COVID-19 restrictions and the interview panel asked the applicants a series of difficult questions to gauge their critical thinking, communication skills, and knowledge of research and evidence-based practices. Following the rigorous selection process, Mars Hill students were selected to fill two of those positions.
Baker and Brawley will begin the program in June and finish in August. They will work 400 hours in a paid preceptorship and complete an evidence-based project that they will present at the end of the summer to the medical center's leadership. For nurses who successfully complete the VALOR program, the Western North Carolina VA Health Care System commits to offering full-time nursing positions after graduation at a higher pay rate than new graduates without the VALOR experience.
About Mars Hill University:
Mars Hill University is a premier private, liberal arts institution offering over 30 baccalaureate degrees, as well as master's degrees in criminal justice, elementary education, teaching, and management. Founded in 1856 by Baptist families of the region, the campus is located just 20 minutes north of Asheville in the mountains of western North Carolina.
Photo  (l-r) Michaela Baker, MHU Director of Nursing Deborah Wiltshire, William Brawley.