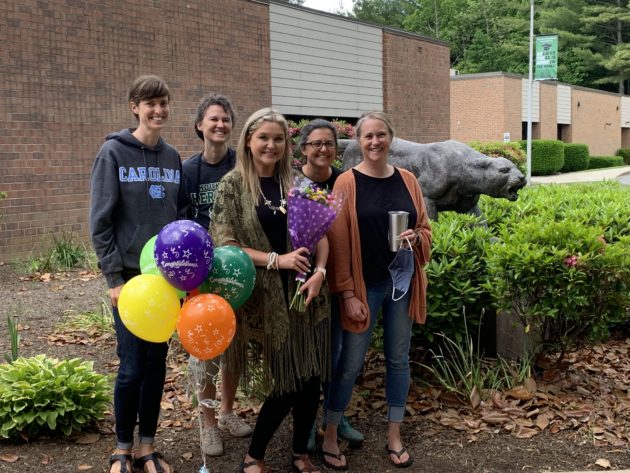 The Yancey County Board of Education is proud to announce that Sarah Laws has been selected as the YCS 2022 Teacher of the Year! (pictured above: MHHS Science Department Sallie Sensensy, Cindy King, Teacher of the Year 2022Sarah Laws, Shannon Oesch, Tressa Hartsell)
An Earth and Environmental Sciences teacher at Mountain Heritage High School, Laws stated, "It wasn't so long ago that I was a student at Mountain Heritage.  I will never forget those years and the lifelong friendships I made.  MHHS is more than just a school to me and to the people of Yancey County. It is a pillar of our community and a place that holds a special place in the hearts of many."
Having taught at Madison High School for six years before moving to Mountain Heritage three years ago, Laws added, "It is an immense honor to be selected by my peers for this award because they were my inspiration.  To have our school system recognize me is the pinnacle of my career so far."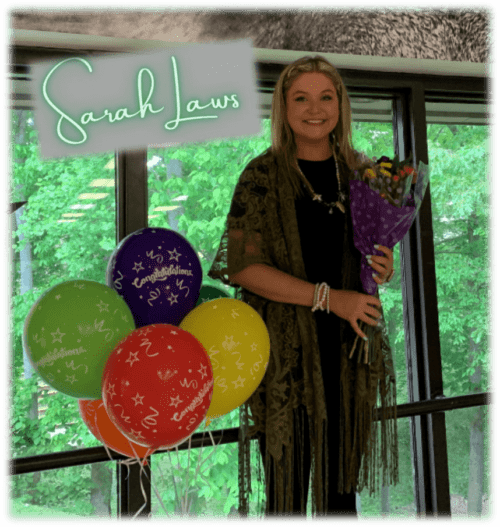 Superintendent Kathy Amos stated, "We are excited to have Mrs. Laws represent Yancey County Schools as our 2022 Teacher of the Year.  She involves and communicates with her students' parents, creates dynamic hands-on lessons and supports teachers in our area and across the state. We most appreciate Sarah being student-centered. She goes above and beyond daily to support all of the students in her science classroom."
Laws earned her Bachelor's Degree from UNC-Asheville and completed her Master's Degree from Clemson University and is an active member of the Asheville Chapter of Delta Kappa Gamma.
Laws has been recognized as an Educator of Excellence by the North Carolina Museum of Natural Science and is participating in a 10 day study over the summer months where she will traverse the Blue Ridge Parkway from Mount Mitchell to Cherokee snorkeling, hiking, tagging animals, and camping.  She will provide daily updates to students in North Carolina via blog on what she is learning about the ecology, geology, history, and culture of the Blue Ridge Mountains.
Laws is the teacher advisor for the MHHS STEM Academy, Prom Committee, and assists with the Student Government.  She has also served on the School Improvement Team and Attendance Appeals Committee.
Individual school 2022 Teacher of the Year Winners are:  Blue Ridge Elementary – Kim Ransom, Burnsville Elementary – Megan Hobson, Micaville Elementary – Ashley Gragg, South Toe Elementary – Danielle Cripps, Cane River Middle – Victoria Hensley, and East Yancey Middle – Renee Duncan.