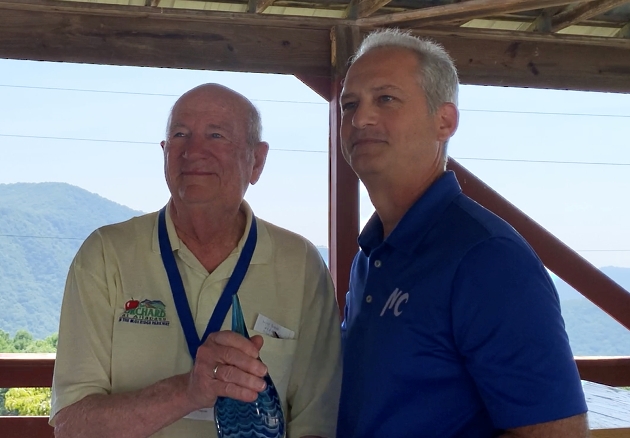 On Wednesday, July 28, 2021, Wit Tuttell, executive director of Visit NC, a unit of the Economic Development Partnership with North Carolina, presented the Esse Quam Videri Award to Bill Carson, co-founder of the Orchard at Altapass. The ceremony was appropriately held on the Olin Hefner Pavilion on the grounds of the Orchard after being delayed a year due to the distancing mandates of last year.
The mission of Visit NC is to "unify and lead the state in positioning North Carolina as a preferred destination for travelers and film production and in maximizing economic vitality statewide." The Esse Quam Videri Award recognition program that began in 2019, echoes the state motto—to be, rather than to seem and celebrates a recipient's gift of time, energy and resources to elevate a destination to new heights.
Over the past 25 years, Carson has dedicated all three of those gifts to the preservation of the lands at Altapass, the deep-rooted culture of its peoples, the eco-system and agri-tourism at the Orchard at Altapass. For more information about the Orchard at Altapass, go to altapassorchard.org. To listen to Bill Carson's acceptance and introductions by Tuttell, Tina White, long-time Orchard friend and regional park ranger, Stacy Swartout, Blue Ridge Parkway superintendent, and Angie Chandler, executive director of the Blue Ridge National Heritage Area, please visit our YouTube channel and click on the Esse Quam Videri playlist.
Photo above: Bill receiving award from Wit Tuttell