Through a generous partnership with Mission Health, AMY Wellness Foundation has acquired a building previously owned by Blue Ridge Regional Hospital/Mission Health that will be granted to SafePlace for their use as a new domestic violence shelter. The new space will provide much needed emergency housing for the region. This new building will not only allow SafePlace to serve the people of the AMY region with higher quality and safer services but also help to ensure that fewer people in need will have to be referred out of the county or region. Greg Lowe, President, HCA Healthcare NC Division said, "At Mission Health, our mission is to care like family. Alongside of caring for patients in our hospitals, we are humbled to provide this donation to care for other members of our community".
Through a grant from Dogwood Health Trust, AMY Wellness Foundation will be able to support renovations to the space in order to meet safety measures and housing requirements for the shelter. Once renovated, the space will have seven bedrooms and accommodate 18 people at full capacity, including separate spaces for men and women, families, and common areas. The space will be updated with proper security measures to give clients a safe refuge while they are transitioning out of a domestic or sexual violence situation. "Once we learned that AMYWF had secured a space, we were pleased to support a renovation to provide a safe and supportive place for survivors," said Sarah Grymes, VP of Impact – Housing at Dogwood Health Trust, an independent private foundation. "Creating new transitional housing like this shelter aligns with our housing goals, and ultimately will put those who use this shelter on the path to healthier lives."
"This project will be monumental for SafePlace and our community. This building will provide much-needed shelter space and updated security for the individuals we serve, as well as providing SafePlace with a stable base of operations to continue our mission of eliminating domestic violence and sexual abuse in our region," said Kellie Honeycutt, Executive Director of Mitchell County SafePlace. "I want to extend my heartfelt thanks to each organization that contributed to this project. To AMY Wellness Foundation, Dogwood Health Trust, and Mission Health, thank you all for all that you do and have done to make this project a reality," she said.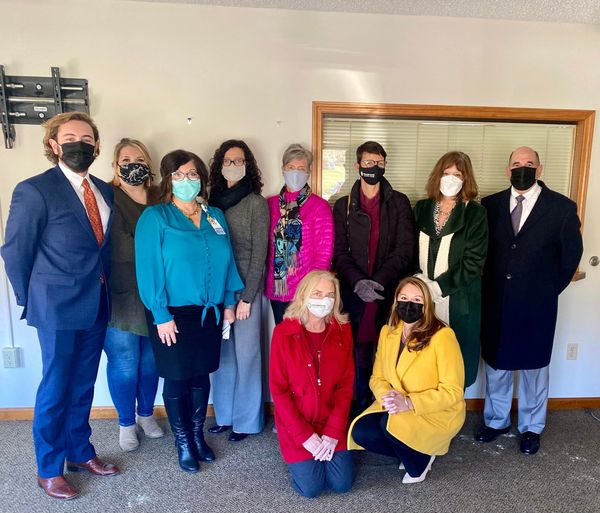 Standing left to right: Luke Howe, Elizabeth Silvers, Tonia Hale, Annie Carpenter, Martha Tyner, Susan Mims, Donna Cottrell and Loran Grano. Betsey Russell and Sarah Grymes are kneeling.