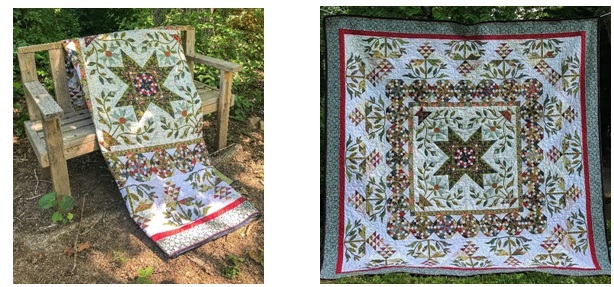 Mountain Piecemakers 2022 opportunity quilt is from the pattern "Common Bride" designed by Edyta Sitar of Laundry Basket Quilts. This beautiful queen size quilt- 88 inches square- is a combination of machine applique and traditionally pieced blocks.  The entire quilt is custom quilted on a long arm machine by a member of the Guild.  Additional photos can be viewed on our website.
You can purchase tickets at https://mountainpiecemakersquiltguild.org/ticket-purchase/ or visit our website,  mountainpiecemakersquiltguild.org.  Members of the Quilt Guild also have tickets to sell for the quilt. We will have the quilt on display at our booth at the Mount Mitchell Crafts Fair as well as handmade items for sale. Currently the quilt is on display at Fabrics in the Fray Quilt Shop in Spruce Pine. Fabrics in the Fray donated the beautiful Morris fabrics in this beautiful quilt this year.
Proceeds from our opportunity quilt ticket sale go to purchase fabric and batting to make Hero Quilts for local veterans and to create Project Linus quilts for children in need. Each year we award 50-60 quilts to local veterans from Yancey, Mitchell and Madison counties. This year's ceremony will be on Veterans Day at the Town Square in Burnsville. The 2022 opportunity quilt drawing will be held at end of Veterans Day celebration. The quilt will be shipped if needed to the winner. Mountain Piecemakers is a non-profit quilt guild and offers educational opportunities for those interested in quilting as well as community service projects.