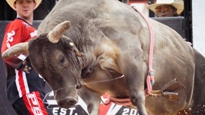 The PBR Team Series  inaugural season  stopped in Tyron June 24th and 25th and will culminate in a team playoff at T-Mobile Arena in Las Vegas November 4-6, 2022. The league launched with eight founding teams, each scheduled to host in their respective city an annual bull riding event and western lifestyle festival, building excitement and rooting interests in the sport:
Ariat Texas Rattlers, based in Fort Worth, Tex., owned by the Fisher family
Arizona Ridge Riders, based in Glendale, Ariz., owned by Teton Ridge
Austin Gamblers, based in Austin, Tex., owned by Egon Durban
Carolina Cowboys, based in Winston-Salem, N.C., owned by the league and operated by Richard Childress Racing.
Kansas City Outlaws, based in Kansas City, Mo., owned by Pulley Outlaws LLC
Missouri Thunder, based in Ridgedale, Mo., owned by Johnny Morris
Nashville Stampede, based in Nashville, Tenn., owned by Morris Communications Company
Oklahoma Freedom, based in Oklahoma City, Okla., owned by the league and operated by Prodigal
The sold out event saw many fans from Burnsville and surrounding areas.