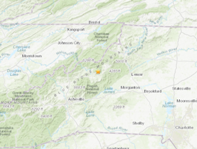 The United States Geological Survey (USGS) confirms a 2.0 magnitude earthquake struck just north of Spruce Pine around 9:58 p.m. Aug. 13, 2022. The quake had a depth of about 6.7 km.
The Carolinas have experienced several lower magnitude earthquakes since late 2021.
Researchers have a theory that water levels are to blame for what's been called a swarm of quakes.
Some recent studies point toward rain water seeping into faults as a possible cause.
On May 31st of this year a 1.8 magnitude earthquake occurred in Mitchell County between Spruce Pine and Bakersville.