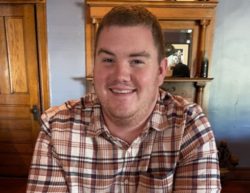 Sam McKinney has joined the Orchard at Altapass family of employees as its first Sustainability Coordinator following his two years as a member of the Orchard's board of directors. In this position, he will assist with planning and implementing development strategies, which will support operations and mission-focused programs. He'll network with area communities to create opportunities to engage with and understand the Orchard's importance to protect, preserve, and educate about this region and its people.
Sam has lived in the area all his life and spent the last five years at Baxter Health, leaving as Interim Supervisor. "Growing up in Altapass, the Orchard was a big part of my early life. Charlie McKinney, who originally owned and lived on orchard property, and is still the subject of "heyride" storytelling, was my sixth great grandfather. My great uncle Deward Hefner managed the Orchard in the 1940s-50s, and my grandfather picked apples there as a teenager," Sam said. "To be able to continue my family's legacy of being involved at the Orchard means everything to me."
Executive Director Beth Hilton said, "Sam, in his role as Sustainability Coordinator, will assist us in making sound program decisions that will guide us as we become a stronger organization. All of us at the Orchard forward to working with him as we move into the future." Sam and his fiancée, Kylie Massey will be married on the Orchard grounds in November.