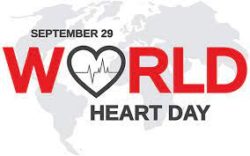 September 29th is World Heart Day.  Cardiovascular disease, including heart disease and stroke, is the number one cause of death worldwide. This World Heart Day, learn what you can do to fuel your heart and power your life. Simple steps like eating healthy, cutting down on alcohol and stopping smoking can improve your heart health and your overall wellbeing.
If you or someone you love is on Medicare, take advantage of Medicare covered preventive services.
Medicare covers a number of preventive services to help keep people with Medicare healthy, including cardiovascular screening and smoking and tobacco use cessation counseling.
Contact Vivian Hollifield, SHIIP Coordinator, at 828-682-6186 for more information.