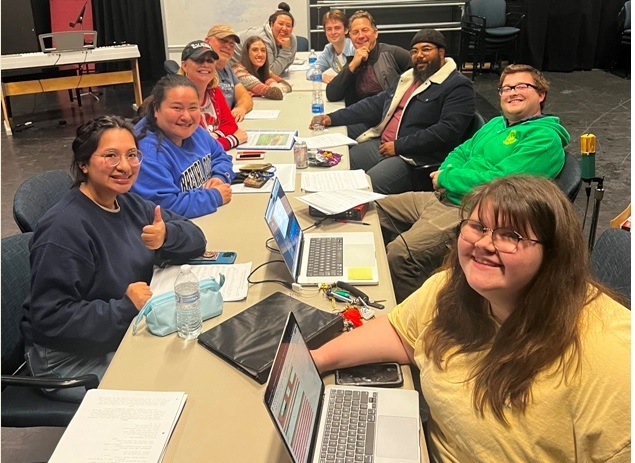 Join Southern Appalachian Repertory Theatre this holiday season as they light up Mars Hill with exciting events!
A Southern Appalachian Christmas is showing December 8-18, 2022, and is set right here in WNC! Sara hasn't been home for Christmas since she moved to New York six years ago. Now, for the first time in years, Sara is back in her hometown, celebrating with the family and friends she left behind. During this visit, she learns exactly what's most important to her and gains a new respect for where she came from. It's a story of love, hope, and cheer during the holiday season. Featuring some of the best local talent, this is not one to miss! Tickets are on sale now at www.sartplays.com.
A Christmas Carol will be showing at Owen Theatre on December 11th at 6pm and December 17th at 5pm! In this Theatre for Young Audiences production, Ebenezer Scrooge is visited by ghosts through a frightful night and wakes up a kinder soul with joy in his heart. Featuring local professional actors and Mars Hill University students, this play is fun for the whole family! Tickets are on sale now at www.sartplays.com.
Southern Appalachian Repertory Theatre is also thrilled to present its First Annual Winter Gala on December 4th at 4pm! They will be partnering with Mars Landing Galleries for this elegant evening of live entertainment, a live auction, and dinner catered by local eateries where they'll be raising funds for their 49th season! This event will be located at Mars Landing Galleries at 37 Library St, Mars Hill, NC 28754.
Southern Appalachian Repertory Theatre is a professional theatre company in residence at the historic Owen Theatre on the campus of Mars Hill University. Since its founding in 1975 by visionary director and theatre educator Jim Thomas, SART has produced scores of plays, musicals, and original works, many portraying the rich culture and heritage of Southern Appalachia. To find out more about SART, please visit www.sartplays.com.