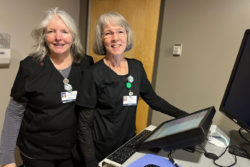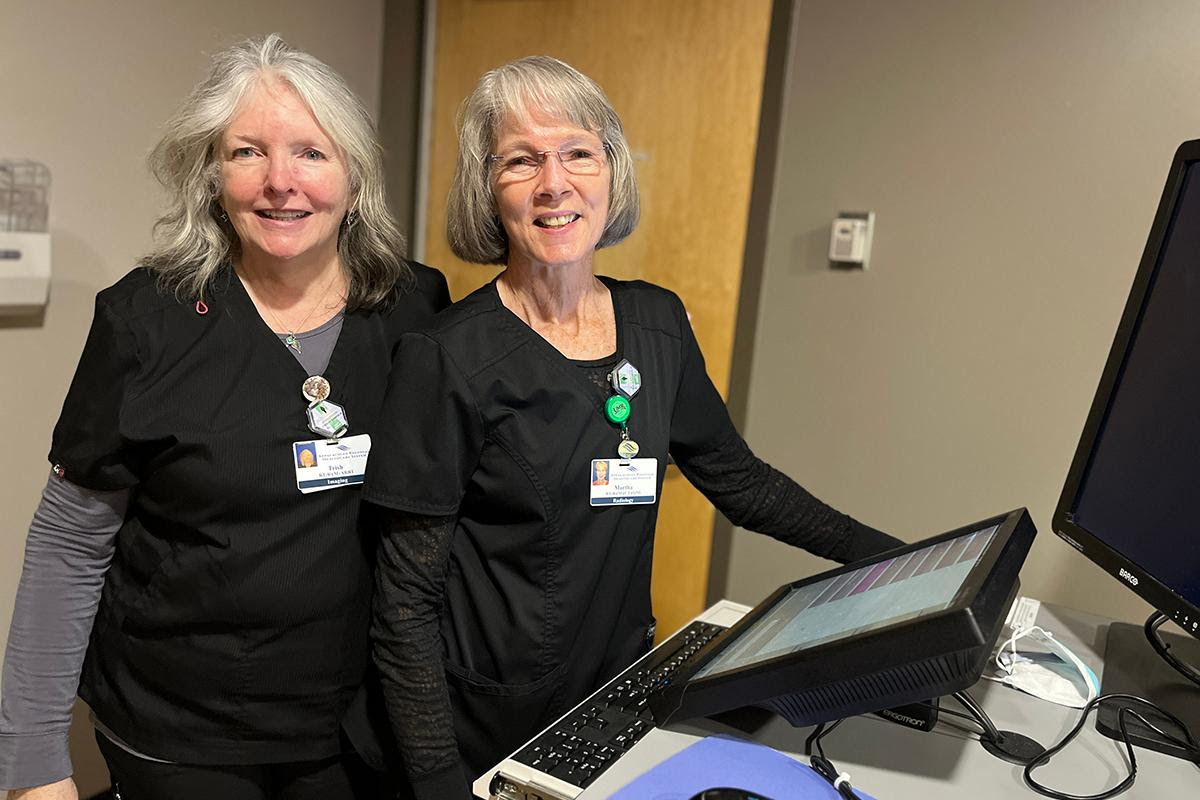 For decades, women in Avery County and the surrounding area have learned they can trust Martha Daniels and Trish Ferguson with their screening and diagnostic mammograms in the Imaging Department of Cannon Memorial Hospital (CMH).
Now, in addition to this experienced and compassionate care team, state-of-the art 3D mammography equipment will help them produce more precise imaging that more accurately detects cancer earlier while pinpointing its exact location.
"With the new 3D technology, rather than a flat image it will take a stack of images – and you may see something you can't see with a 2D image," Daniels said. "This is particularly good for dense breasts."
This technology can also detect up to 40% more cancers than the previous 2D mammography.
Daniels, who has worked as a mammographer in Avery County for 28 years, is excited that CMH now has this type of technology available to the women in her community.
"I care about women's health. I feel like women in this county deserve the best of care.
One in eight will end up with breast cancer in their life. I want to do what I can to slow that down," she said.
Ferguson, who has been a mammographer for 31 years, says she "will see people in the community and they will say 'you found my cancer.' I didn't find it, the machine found it."
Now with sharper images, more accurate detail and detection, "the machine" can detect true positives in earlier, more treatable stages of cancer. If something is found, Ferguson, can fast track care for additional imaging if needed so patients aren't anxiously waiting longer than necessary.
"I love my patients and I want them to get the best care possible. Mammography was an immediate love for me. I get to talk to patients, and get to know them," Ferguson said.
Although this technology is advanced, the care is still personal and compassionate.
"We're literally caring for our family and friends. Any service we do is not impersonal," said Stephanie Greer, Avery Health Market President. "The amount of experience combined with the state-of- the-art software is invaluable. The investment in this technology for Avery County is a direct investment in the wellbeing of the patients we serve. The opportunity to provide the highest quality diagnostic service means that we are protecting our mothers, daughters, sisters, neighbors, and friends. It is exciting that our community will no longer have to travel out of town to access this state-of-the-art service."
To schedule your mammogram at Cannon Memorial Hospital, call 828-268-9037.
The National Cancer Institute recommends women 40 years and older get a mammogram every one to two years. Women who have had breast cancer or other breast problems or who have a history of breast cancer might need to start getting mammograms before age 40, or they might need to get them more often. Talk to your provider about when to start and how often you should have a mammogram.
For more information, visit apprhs.org/mammogram