Grandfather Mountain, the not-for-profit nature park run by the Grandfather Mountain Stewardship Foundation, has announced that tickets for the first evening presentation of the Grandfather Presents 2023 speaker series are on sale now. Ian Shive, an Ansel Adams Award-winning photographer and filmmaker, kicks off these Thursday night presentations on June 8.
The new Wilson Center for Nature Discovery will play host to the event. Guests will get to experience a "night at the museum" atmosphere, the speaker presentation and book-signing/"meet-and-greet" opportunities. For some, it may be their first chance to check out the new space and exhibits.
This season's Grandfather Presents roster has an emphasis on those who make it their life's mission to highlight the challenges, opportunities and good work happening around exploration, nature and conservation. In addition to Shive, the lineup also includes:
Emmy Award-winning travel TV host and producer Samantha Brown | July 13
Ornithologist, author and illustrator David Sibley | Aug. 31
Appalachian State University Geology Professor and National Geographic Explorer Dr. Baker Perry | Sept. 7
Chief Meteorologist at WCNC-TV Brad Panovich | Sept. 21
The series features Saturday afternoon presentations focused on nature, adventure or conservation-related topics on a local or regional scale, as well.
Award-winning author, photographer and filmmaker Ian Shive will present "From America's National Parks to the National Wildlife Refuge System." Shive has authored several award-winning books including "The National Parks: An American Legacy" (2020), which is where the evening's journey will begin — with iconic locations of "America's Best Idea" but also an exploration of what National Parks represent today and in the future of conservation.
Through the lens of Shive's work on Yellowstone National Park's 150th anniversary, to recovery efforts on Channel Islands National Park, in California, the presentation will share two decades of stories in the parks and how they compare to one of America's other great, protected areas, the National Wildlife Refuge System. There is perhaps no other person in the world who has been to more protected areas in both the parks and refuges than Shive.
This will not be Shive's first trip to Grandfather Mountain. In 2013, the photographer was part of the speaker lineup at the park's popular Nature Photography Weekend. Shive will also be a speaker at the sold-out June 9-11 Nature Photography Weekend this year.
"We are thrilled to have Ian return to Grandfather Mountain this June," said Landis Taylor, assistant vice president of marketing and communications for the Grandfather Mountain Stewardship Foundation. "We've been watching his career, passions and influence grow over the last decade, and we are thrilled to have him as a Grandfather Presents speaker. We can't wait for Ian to share the important and dynamic work he does to highlight the significance of protected lands via his rich visuals and storytelling ability."
Shive is an Ansel Adams Award-winning photographer and filmmaker whose work documents some of the world's most pristine environments and brings to the public important conservation stories from around the globe.
In March 2021, Shive took audiences to a protected and remote Alaskan archipelago with the launch of his documentary, "The Last Unknown," as well as an ASMR experience in our National Wildlife Refuge System with "Secret Islands of the Pacific," both now streaming on Discovery+. In 2020, Shive launched a digital series on Discovery Channel titled "Nature in Focus," where he explores our planet as host and executive producer. In 2019, the photographer and filmmaker led several expeditions to some of the world's most remote coral atolls for the giant-screen film, "Hidden Pacific," which he directed and produced. "Hidden Pacific" brings to life in IMAX 3D the vibrant marine national monuments at the far reaches of the Pacific Ocean — thriving ecosystems filled with colorful coral reefs, large colonies of birds and threatened species that depend on these habitats for survival.
Shive's work has been critically acclaimed in the New York Times, Wall Street Journal, Smithsonian, CNN and countless other media outlets. Since its inception in 2010, Shive has worked as CEO of the company he founded, Tandem Stills + Motion, Inc., a leading health, fitness and environmental media company. He is proud to be a steward of his local community's injured and vulnerable wildlife as a member of the board at the Santa Barbara Wildlife Care Network.
 Schedule: June 8, 2023
8 a.m.: Grandfather Mountain opens for the day and "VIP" ticket holders allowed access to the park
4:45 p.m.: "Regular" ticket holders allowed to enter the park and head to the Wilson Center for the event
5 – 5:30 p.m.: "VIP" Reception in one of the classrooms in the Wilson Center (VIP ticket holders only)
5:45 – 6:45 p.m.: Speaker Presentation in the Classroom in the Clouds
6:45 – 7:30 p.m.: "Meet-and-Greet" or Book Signing with Speaker
7:45 p.m.: Park should be clear of all Grandfather Presents guests
 Event Tickets
New in 2023, two levels of tickets are available for the Thursday night Grandfather Presents programs. A "VIP" ticket includes park admission for the day and a special reception with the speaker, while a more cost-effective "regular" ticket includes only the presentation and "meet-and-greet" after the event.
"VIP" tickets include a VIP reception with the guest speaker that includes heavy hors d'oeuvres, in addition to the program and "meet-and-greet" session after the event. Admission to the park for the day is also included. "VIP" adult tickets are $60 and $51 for members of the Bridge Club, the park's annual membership program. VIP tickets to the event are limited.
"Regular" tickets are a more cost-effective option and include only the speaker's program and the "meet-and-greet" session after the event. "Regular" adult tickets are $25 and $20 for Bridge Club members. Children, ages 12 and under, are admitted free to the event, with a maximum of four free children permitted per purchase.
Tickets are on sale online now.
To learn more about "Grandfather Presents: Ian Shive" and to purchase tickets, visit www.grandfather.com/event/ian-shive.
To learn more about the Grandfather Presents speaker series, visit www.grandfather.com/grandfather-presents.
The nonprofit Grandfather Mountain Stewardship Foundation strives to inspire conservation of the natural world by helping guests explore, understand and value the wonders of Grandfather Mountain. For more information, visit www.grandfather.com.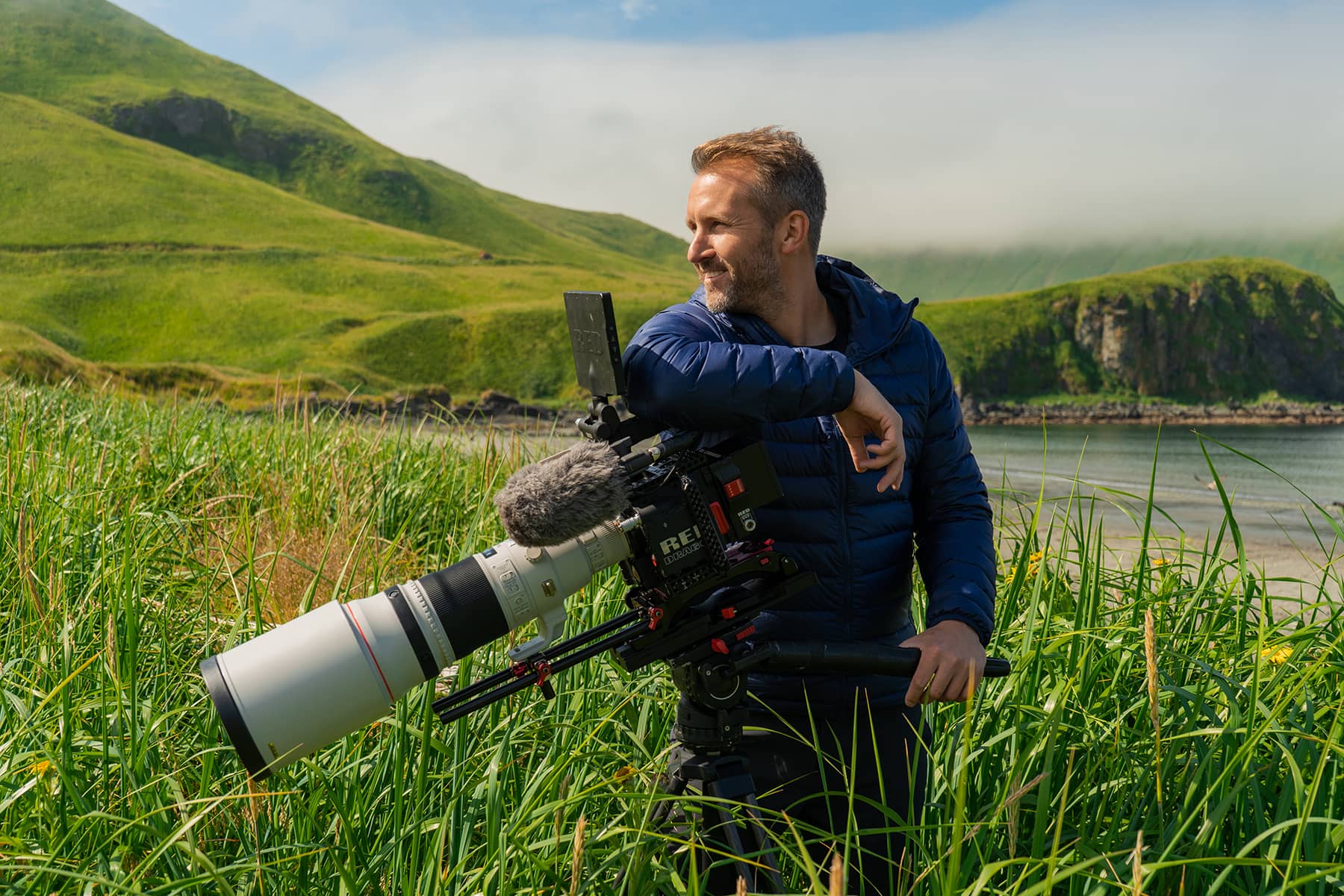 Alaska Maritime National Wildlife Refuge, Aleutian Islands, Alaska: Host of The Last Unknown, Ian Shive, with his cinematography camera.
 Tickets are on sale now for "Grandfather Presents: Ian Shive," part of Grandfather Mountain's speaker series, taking place at the new Wilson Center for Nature Discovery. Join us for an evening with the award-winning author, photographer and filmmaker, as he presents "From America's National Parks to the National Wildlife Refuge System." Two levels of tickets are available online for this June 8 event. (Photo Courtesy of Ian Shive)