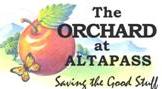 Beginning June 1st, the Orchard at Altapass goes to five days a week—Wednesday through Sunday, 10 am to 5 pm. Five days of orchard experiences from hayrides to book signings, the train project, bee and monarch butterfly habitats, heritage exhibits, People's Pollinator Garden, and free, live music every weekend afternoon through October. All are invited to listen to old to new renditions and take a twirl or a tap (if so inclined) on the pavilion dance floor.
The Orchard prides itself on presenting the best mountain music, whether traditional rhythms or twists of contemporary cadence, and this season's offerings are no exceptions. Regular music performances are on the pavilion from 2 to 4 pm every Saturday and Sunday.
June's lineup begins with a special recognition of the region's Scots-Irish heritage on Sunday, June 4th. Gordon Warburton and his bagpipes start the music at noon. He's followed by Dollar Brothers at 1 pm and Rewind Goodtimz at 3 pm.
The month continues with the return of the Junior Appalachian Musicians (J.A.M.) from Caldwell County and Morganton who perform at 12:30 on the 10th. Buffalo Cove follows at 2 pm. On Sunday, new to the Orchard—the Rowdy Neighbors. And Saturday, the 17th gives it over to the Dollar Brothers with Sound Traveler on Sunday.
On June 21, the Orchard presents a special evening performance featuring Terry McKinney and Friends. From 7 to 9 pm, admission $10. It's been almost three years since Terry played on the Orchard stage, and we welcome him back.
And the month winds down with Good Ol' Boys' bluegrass on the 24th and Split Rail Bluegrass on Sunday. Remember, it's all free.
But don't wait until the afternoon for a trip to the O. There's plenty to explore for all ages. Apples won't be ripe for another few months, but that doesn't mean we don't have apple pie—ala mode or just decadently, deliciously hot. And don't forget the Orchard's homemade fudge in several melt-in-your-mouth flavors or snacks from regional businesses. How about an Orchard at Altapass ballcap to keep the sun in the shadows? And the Apple Core Grill returns weekends (beginning the 10th) from 11 am to 3 pm.
Located at 1025 Orchard Road near Spruce Pine at mile 328.3 on the Blue Ridge Parkway, the Orchard at Altapass is a not-for-profit working orchard and educational venue. Hours are 10 to 5, Wednesday-Sunday. Family- and pet-friendly. Wheelchair accessible. Buses welcome. For information, please visit www.altapassorchard.org or our Facebook page.