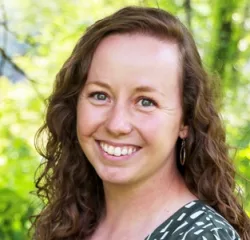 Sabrina Delk has joined Mars Hill University as the director of the new Center for Entrepreneurial Leadership. She is responsible for recruiting students, organizing and executing extracurricular activities, and engaging businesses to help provide students with the real-world skills they need for a seamless transition into the professional world. She also will oversee the planning and execution of the center's programs, including a small business incubator, Main Street economic development facility, community outreach, and financial literacy, along with student scholarship, internship, and consulting programs.
Delk, a veteran project manager and development professional, comes to Mars Hill from the North Carolina Outward Bound School, where she served in several roles, most recently as development director. She received her undergraduate degree from the University of South Carolina and her master's in public administration from Clemson University.
"I'm excited to begin working closely with students to help them succeed," Delk said. "My personal values of community, challenge, learning, and compassion perfectly align with Mars Hill and the Center for Entrepreneurial Leadership."
"Sabrina is the perfect fit for our program and the role," said James Heinl, executive director of the center and an MHU business professor. "Her positivity, energy, experience, and skills are going to correlate to immediate success. She is going to make a measurable impact on our students, our community, and our business partners."
The Center for Entrepreneurial Leadership includes Mars Hill's entrepreneurial leadership academic program. It aims to educate a new, diverse generation of leaders to bring an entrepreneurial mindset to businesses in Western North Carolina.
"It is not just about how to start a business," said Heinl, "but how to impact any business in any position by displaying the characteristics of successful entrepreneurs."
One early project for the center is a case competition for high school students on September 30. Teams of one to four students will employ key business skills such as research, analysis, presentation, and creativity as they compete to develop the best solution to a business case. The competition will award cash prizes to the top teams and their schools. Information is available at www.mhu.edu/case-competition.