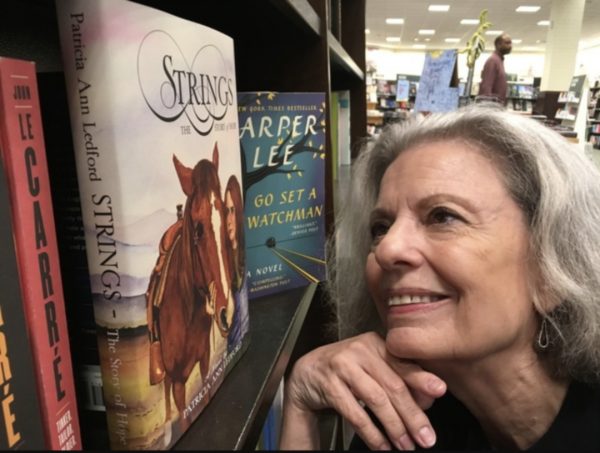 On Saturday, August 31, Patricia Ann Ledford will be at the Orchard at Altapass from 1 to 4 p.m. to sign her new novel, "Strings–The Story of Hope."
Set during the Revolutionary War, "Strings" recounts the journeys of Hope O'Connor, naive 15-year-old and 17-year-old Cherokee native, Maska. Hope, haunted by the screams of her family she believes massacred during the recent Indian raid; Maska, seething with rage over the retaliatory burning of his village—journeys that span four generations and down roads to other characters. It is a story of grim reality and unrelenting spirit.
According to the official book description, "Strings of hurtful events quickly destroy Hope's innocence, wrapping her heart in deeply buried memories. She resists relationships of any kind. That is until her search for her father leads to an unexpected friendship."
Patricia Ann Ledford grew up in Kingsport, just over the border in Tennessee. An early career in politics evolved into managing marketing campaigns for major clients and ultimately into working on film projects and producing television programming.
After 40 years of writing professionally in Nashville and Chattanooga, her own six-week internal journey led her to a tiny cabin near Boone, two filing cabinets of research, and to a life-time goal of authoring her own stories. Released in June, "Strings–The Story of Hope" is her first novel.
Books will be available for sale at the event. Come for the book signing (she will be happy to sign a book already purchased), take it out on the deck and begin your own journey through Patricia's pages while listening to The Grass Catchers and Southbound inside. And it's all set against the serene beauty of the Orchard at Altapass.
The Orchard is located at 1025 Orchard Road near Spruce Pine at mm 328.3 on the Blue Ridge Parkway and is a not-for-profit working orchard, music, and educational venue. Hours are 10 a.m. to 5 p.m., Wednesday-Sunday. Family and pet-friendly. Wheelchair accessible. Buses welcome. For information please visit www.altapassorchard.org, or call 828-765-9531.