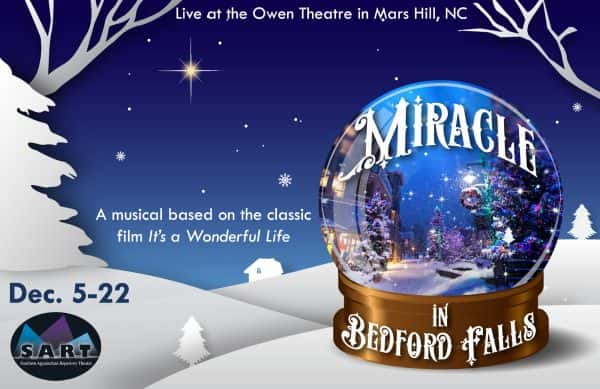 Southern Appalachian Repertory Theatre is proud to announce the 7th show of their 45th season with Mark Cabiniss' and Lowell Alexander's MIRACLE IN BEDFORD FALLS, in historic Owen Theatre, on the campus of Mars Hill University, 44 College Street, Mars Hill, NC 28754.
Performances will run December 5-December 22, Thursday- Saturday at 7:30, and matinees on both Saturdays and Sundays at 2:30.  Tickets are $30 (premium seating), $25 (standard seating), and $18(students and children). Additionally, we offer a discounted group rate of $20 (groups of 10 or more). Tickets can be purchased via the SART website: sartplays.com, or by calling the SART box office: 828.689.1232. NOTE: There will be no performance on Friday, December 6th or 13th.
The holiday classic It's a Wonderful Life, Capra's 1947 film starring James Stewart and Donna Reed, takes center stage in this new musical entertainment with a book by Mark Cabaniss and music and lyrics by Lowell Alexander. As Miracle in Bedford Falls opens, our hero George Bailey has spent his entire life giving of himself to the people of Bedford Falls and watching his dreams of travel and adventure pass him by. Despite having a loving wife and children, George believes that life has not been kind, and with a scandal looming, the man plans to end his life on Christmas Eve. Enter Clarence, a guardian angel who shows George what the world would have been like if he'd never been born. SART did the world premiere of this musical 10 years ago. We are thrilled to be bringing this musical back as a part of our 45th anniversary season. The Citizen-Times wrote of this charming, funny, and tune-filled musical, "It's risky business taking such a beloved film and bringing it to life, but this show pulls it off with heartwarming success, adding effective original songs and dance along the way." Bold Life magazine as "some kind of wonderful" and by the Asheville Citizen-Times as "an old-fashioned holiday greeting card come to life."
Serving as Miracle in Bedford Falls' director is Pem Price Tomaselli, long-time SART company member.
Additional creative team: choreography by Rebecca O'Quinn, lighting design Andrew Zebroski, sound design Calum Kramer, costume design by Anne Knight, and music direction by Misty Theisen.
Our stellar cast includes Shane Dinan as George Bailey (Something's Afoot! as Flint)  Chelsey Lee Gaddy Mirheli as Mary Hatch Bailey (Bright Star's Alice Murphy), Timothy Wilds as Potter (Bright Star's Mayor Dobbs), Rebecca O'Quinn as Violet (The Odd Couple's Gwendolyn Pigeon), Lara Hollaway (The Odd Couple's Cecily Pigeon), and Matt Edwardsen as Uncle Billy. Making their SART debut are some of WNC's best professional actors Anneleise Henry, Matthew Harper, William and Kyrstin Ezzell, and Dwight Chiles as everyone's favorite angel, Clarence.
Founded in 1975, Southern Appalachian Repertory Theatre is celebrating its 45th anniversary.  Since the beginning, SART's primary mission has been to cultivate quality, professional theatre for the WNC region.  Musicals, both big and small, have delighted our audiences, and the magic of theatre has provoked both company members and patrons alike. SART is the fortunate recipient of the new James Thomas Black Box Theatre located in Day Hall, a new box office also in Day Hall, a new lobby, handicap accessible facilities, and a renovated main stage in historical Owen Theatre.  Our partnership with Mars Hill University promotes vital onstage experience for our Theatre Arts Department students by providing them the opportunity to perform alongside professional actors in our community.  Some of our student performers returning to the SART stage are Paul Penderman, Tristan Brown, Brianna Brunner, and Chloe Kramer, with professional debuts from Connor Evans, Kevin May, Braeden Johnson, Kevin May, and Righteous Luster.